Artificial Intelligence an interesting technology, machine has the capability to impersonate human behavior. Machines, like never ever have been expanding the reach to make the solutions real enough to benefit business and society. Understanding the text and voice commands and interact with the users to respond and analyze the data for predictions.
The AI architecture uses cloud platform to let you design smart applications. It offers pre-designed APIs, Bot tools and updated AI tools for developers to design unique AI solutions.
Azure AI helps in developing machine-learning models, forecasting demands, detect fraud, and recommend users to improve their experience.
Developer tested Azure AI on over 69 projects showed interesting results. Many of the existing apps enhanced and new models got created using machine learning models. Forecasts of Artificial intelligence say it will reach to human levels around 2029.
Many Azure services are available to connect the hardware, AI and the presentation layers. Create multiple scenarios with the re-usable architecture. This helps in building unique versions of the software.
Powerful Azure AI Tools:
Azure custom vision can let you create a model that requires less training data.
Keras framework along with Azure ML service helps in fast experimentation and improving on the versions of models that can monitor and track over a period.
The easy integration of Anomaly Detector API from Azure Cognitive Services can quickly match up with the sensors to work efficiently.
Azure Bot Service lets you incorporate the language understanding capabilities, speech, and image processing for natural interaction.
Azure AI Search helps the user to search, compare, study, and gain knowledge. By using inbuilt AI functions performs the detailed search for the user.
Azure Machine Learning can personalize customer recommendations.
Direct Line Speech simplifies the creation of end-to-end solutions for voice-in and out, on device API and works in real time to benefit the response from bots.
Vision AI deployable in minimum time enhances the machine learning skills and better connection between the hardware, software and Azure AI models.
Form Recognizer applies advance level machine learning to exact text values from the documents and tables from data stores on-premises or on the cloud. Pre-built receipt API identifies and extracts information like transaction date, time, amount, etc. from sales receipts and the machines can perform this task without additional training. It can enhance the expense reporting and bring real value to the business.
Natural Language Processing lets you manage healthcare records, facilitates the patients. The doctors can check the reports online, making it easy to diagnose better. It reduces the costs of document storing and processing to manage the priorities pertaining to healthcare. It provides valuable insights into clinical and financial nature. NLP and ML can upload text files and images, classify to organize records, extract required information, and automate few functions.
Azure Machine Learning allows developers to build scalable and efficient models. It automatically selects intelligent data models from the data sets that are best suitable for the scenario and train them. Forecasting if automated improves accuracy and performance of the business. It can predict revenues, sales, customer demand, and inventory.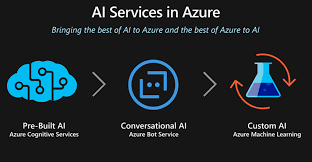 Innovative Apps that are using Azure AI:
It gives Developers a different level of power to design and implement models using AI.
Trashe creates awareness and provides more information about the recycling possibilities to save the environment. The clarity it provides lets you take on new projects for the betterment of the community.
AfriFarm is an app that can recognize crop diseases from images; with the use of Azure ML service. The diseases found are shared publicly, in real-time to help millions of farmers. It also helps the government to take faster actions to support the affected population.
Water Level Anomaly Detector: An ultrasonic sensor detects the drastic changes in water levels that can lead to floods or droughts. In advance, it can warn people to be prepared for the major changes about to take place in the environment. It is an intelligent solution for analyzing the effect and climate change in the long term and alerts us.
Healthcare Bot Service: Organizations in healthcare have built bots/ virtual assistants combining medical intelligence and natural language capabilities. They can check and inform about the medical services, laboratory tests, medical complexities, treatment options, schedule checkups and even clear medical bills.
SyTrue: NLP OS can search a medical record from millions and billions of data in less than a second and shares valuable insights for multiple purposes. This data is unstructured collected in various formats, like ways people talk about the illness, or terms commonly used and different abbreviations, etc. It is identifiable and easy to search so that the computer can read and understand medical records. You can search specific age group with a health symptom, and it is available in no time. It increases the productivity of medical teams working on it and improves interactions based on accurate data.
Microsoft Pix Camera: This AI-based intelligent app lets you select from the best shots, get cleaner shots, and get sharper pictures. It identifies and focuses on the subject and move in multiple directions to capture high -quality image. Capture documents by capturing the content not the frames and display boards, this lets you get better clarity. You can edit the photos and documents and send them to social media platforms.
MileIQ: It automatically tracks the mileage and keeps the records of your drive. You can get weekly reports; classify the drives as business and personal easily in just one swipe. Personalization can custom location and mention work hours to keep better track. Get date, drive, location, and event wise reports. You can access it anytime anywhere making it available for organizing the categories.
Pros of Azure AI:
Intuitive and fast interface
Stacks multiple technologies
Flexible cloud platform
Backup is cloud-based
Easily accessible
Data security
Hardware Innovation
Trained algorithm's
Reasonable costs
Access to a rich set of AI services
Great Performance
Improved communication
High availability
Scalable option
Automate tedious tasks and workflows
Detect emotions in content for natural interaction
Build accurate forecasts
Provides more opportunities for business expansion
Maximize productivity
Build ML models with little data science knowledge
Design innovative AI solutions
Simplified AI with automated User Interface
Build models easily
Review and explore data
Systems can re-design self, based on self-defining parameters.
Cons of Azure AI:
Cost can be a concern for SMEs
Using your VM is expensive
You need platform expertise
Complicated interface
Open source features are lacking
Frequent updates can increase the training costs
Requires a lot of data to and time to create algorithms
Predictions are data dependent and data can be manipulated
Creativity can be struggle for some of the AI applications
AI is developing technology and the newer aspects can make you invest more and frequently
Design systems that understands and acts differently in normal and emergency situations is quite challenging
Bit slower compared to other big data tools
Few Azure services need additional tools to support it
No offline access to the machine
Conclusion:
Microsoft's Azure AI is a breakthrough in research of speech, language and vision processing and custom machine learning.
Modern age technological gadgets have evolved and reduced in size and the advancements in technology shall continue to surprise us. The Azure AI has an impressive backup solution for all the excellent products that look up to serve the markets. Unique approaches can give you exceptional results and intelligent solutions. This artificial intelligence will bring real technological change.