UX designers spend a lot of time observing and talking to users to get feedback, which is essential for designing a successful UX. They also track statistics, such as the number of crashes and daily active users. These statistics and user feedback are key for developing products effectively and making UX decisions. However, it is also important to comprehensively understand the user experience to make informed decisions.
So how do you do it?
Focus group studies make it simple for startups and mid-sized businesses to conduct user experience research, but have you ever wondered how massive corporations like Google, Facebook, and Netflix manage their UX research on such a large scale?
How do they conduct their research given the vast demographic presence and disparate social and economic behaviors?
While there are many small-scale frameworks available for small UX research, they discovered that there needed to be a system in place for measuring customer satisfaction on a large scale through automated channels. To overcome these challenges, Kerry Rodden, Hilary Hutchinson, and Xin Fu from Google's research team introduced the HEART Framework to assist UX teams in concentrating on user experience elements they wanted to enhance and identifying specific objectives and metrics for measuring success.
The concept is straightforward: provide a set of metrics focused on the user that let you assess the user experience on a broad scale. The product development process can then use these metrics to inform decisions.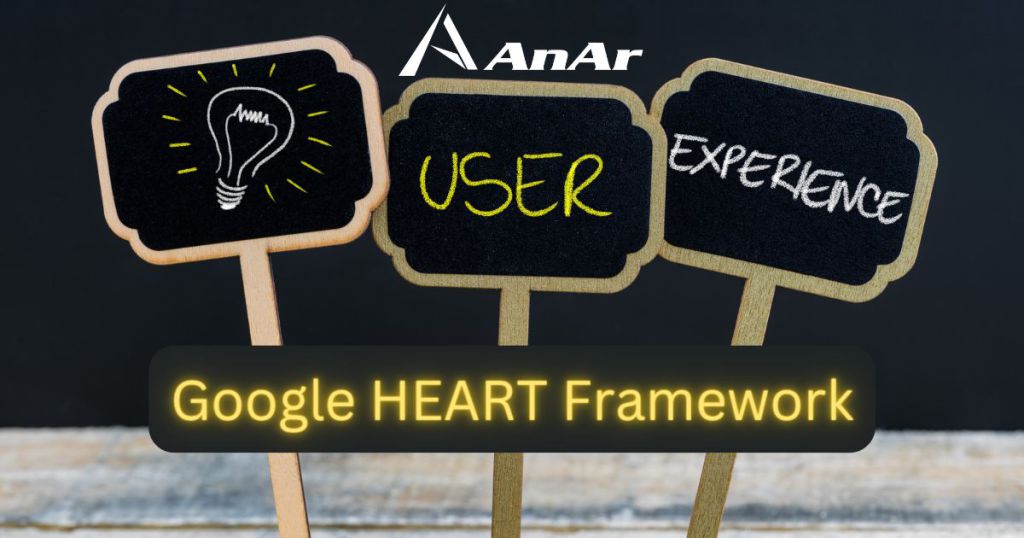 What is Google Heart Framework?
The HEART framework is a methodology for enhancing software's user experience (UX). According to five metrics focused on the user, the framework aids enterprises in assessing any aspect of their user experience.
The HEART acronym stands for the following metrics:
H for Happiness
What do customers think of your product? Or How do they feel while engaging with your product? User satisfaction surveys, app ratings and reviews, and net promoter scores are frequently used to quantify Happiness.
E for Engagement
This category gauges the degree of user engagement, usually through behavioral indicators like frequency, intensity, or richness of interaction over an extended period. Examples could be the number of visits a user makes each week or the number of photos they upload.
A for Adoption
How many users complete the onboarding process and stick around? The number of new users over time or the percentage of users using a new feature are two ways to gauge adoption.
R for Retention
It is the frequency with which current users are coming back. For instance, how many of the users who were active during a specific period are still active during a later period? You might be more interested in churn, also known as failure to retain.
T for Task Success
Can users easily and quickly complete their task or goal? The effectiveness of a task is determined by its completion rate, efficiency (how long it takes users to complete the task), and error rate.
You can choose your toolkit by choosing the metrics necessary to assess your app's performance as a whole or just a single feature.
How to use the GOOGLE Heart Framework?
To apply this framework, a team will decide on goals, signals, and metrics for each of the five HEART categories. The Goals-Signals-Metrics framework was developed at Google, and it is straightforward:
Step 1: Set Your Goals
A great way to get everyone on your team on the same page is to set goals initially.
Is it more crucial to gain new users or to boost the retention of current ones? What tasks do you want brand-new users to achieve?
Remember that your specific product or feature update goals might differ from your overall app goals.
Goals: Overarching objectives. A goal for Happiness could be to "increase user satisfaction."
It's crucial to limit your list of objectives to just three. While concentrating on every element of the HEART framework may seem like an excellent way to create a nearly perfect UX, managing five goals and more than a dozen metrics is unrealistic.
Focus on task success, for instance, if you want users to rave about how simple your app is to use. Choose Happiness if you want them to rave about how much they love using your app.
Step 2: Define Specific Signals
Each goal has accompanying user actions. Connecting your goals with those actions can determine whether you are on track. What activities or attitudes would show that your goal has been accomplished or not?
For example, clicking on edit profile and not completing the profile indicate poor UX or a lack of cognitive mapping. In the same way, an increase in downloads in the app would imply higher adoption.
Step 3: Select Corresponding Metrics
Finally, turn signals into metrics that can be tracked and tracked in real time. A measurable indicator of Happiness would be the number of 5-star ratings or the Net Promoter Score. The Registration Rate could be a valuable indicator for adoption.
It is simple to come up with a long list of potential metrics. You can keep your list workable by sticking to metrics that will assist you in making UX decisions.
Also, resist the urge to include "interesting tidbits" in your list. Keep your attention on the metrics that are directly related to your objectives.
Kerry Rodden, one of the original Google UX Researchers, brings up a crucial point. As your user base expands, your overall numbers will inevitably increase, so normalize your data. The user's ratios, percentages, and averages are more valuable than raw numbers.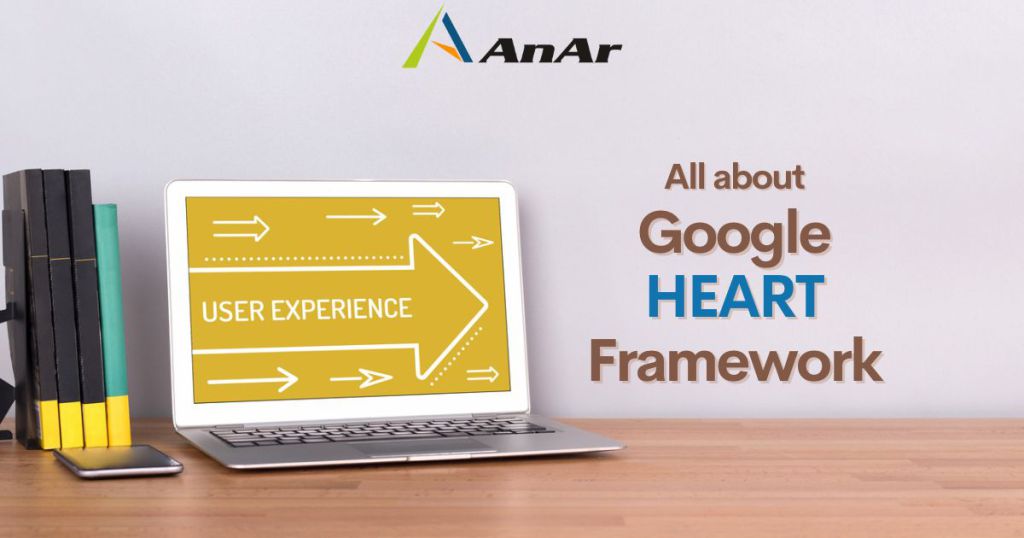 What are the benefits of the HEART Framework?
Using HEART has a lot of benefits, including the following:
Business Intelligence and Useful Trends
This framework tracks and measures the UX from different perspectives, such as user engagement, adoption, etc., Allowing the business to spot significant trends, such as how strengthening one metric might make another weaker.
For instance, the team might discover that concentrating resources on boosting user adoption lowers the product's engagement score. The unit can use this information to modify how it creates and markets its products.
Better Strategic Direction & Decision Making
To assist Google's UX designers in concentrating on a few crucial aspects of the user experience while tuning out the rest, Kerry Rodden created HEART. She observed that the enormous amounts of unprocessed usage data were overwhelming for many designers and researchers.
With the help of this framework, a team can concentrate its efforts on the user experience aspects they believe will have the most significant strategic effects on the final product and critical business decisions.
Higher ROI Predictability
Which of these five factors consistently and significantly leads to higher revenue can be learned from the data that UX and product teams will accumulate over time using the HEART framework.
The UX or product team will know where to focus its resources on a new product if engagement and happiness rates are low and if the company discovers over time that investing in increasing Happiness adds more to the bottom line than investing in engagement.
Who should use the Google HEART Framework?
Software UX teams were the target audience for the HEART framework. The Goals-Signals-Metrics model and its five elements are still methodically best suited for UX designers and researchers.
However, HEART can also be a helpful framework for product managers, mainly to assist them in comparing competing projects to ascertain which offers the most strategic benefit. When their cross-functional team can only complete some of the ideas or requests for features and enhancements within a given timeline, product teams can use the HEART framework to set priorities.
Final Wrap-up
The Heart framework is a helpful tool for starting conversations for product teams. It integrates business metrics into your design process and works with the Goal Signal metrics process. In other words, the information you gather enables you to have more fruitful discussions and serves as an effective tool to back up your design choices.
The HEART framework is practical and straightforward to implement because of its simplicity. The framework may be intended for large projects, but that doesn't mean you cannot use it for smaller projects.