Introduction
If you are thinking about which data storage solution is suitable for you, this article compare data storage solutions like cloud or on-premise.
Cloud or on-premise storage is a debatable topic. Cloud storage has risks of data leakage due to accidental sharing, data containing URLs, intentional copying on personal drive, misconfiguration of cloud resources, and stored passwords.
The on-premise storage has perils of higher equipment costs, operational costs, and managing complexities of data.
What is Cloud Storage?
Cloud storage is an internet-dependent service that offers a data center to store your data in a remote location. Third-party service providers manage the files stored on external servers. The cloud provider installs and maintains the hardware, software, and supporting infrastructure. Data is hosted externally, but the accessibility to this data is anywhere, anytime, and using any device. It is a boon for companies having teams working remotely.
Cloud storage is for every type and size of business. There are mainly three types of storage, i.e., On-premise, Staas, and Hybrid Cloud. On-premise (self-hosted & self-managed), Staas (externally managed data centers to facilitate storage and syncing), and Hybrid Cloud (combination of On-premises and Cloud Networking).
What are Cloud Storage Procedures?
The client-server model is permitted storage via subscriptions requests by clients. They store data on an external server of the data center instead of any local storage disks/servers. The users can retrieve data from any location with an available device and a stable internet connection.
It is easy, secure, and quick, and it gives liberty to store all essential business records. Multiple choices in cloud service providers, pricing plan and storage level, etc., make your decision easy. Moreover, you benefit from free trials and free programs.
Why do organizations need Cloud Storage?
Data is nowadays treasured. The data points help in decision making, general operations, and providing a better customer experience. Remote storage improves accessibility, productivity, and efficiency of dealing with data. Data storage packages are cheaper than self-managed on-premise solutions. You save the costs of hiring experts to manage servers and avoid unnecessary expenses as you scale up and down as per your storage requirement, e.g., 10TB or 20TB.
What is On-Premise Storage?
On-premise storage is an IT team/partner-hosted and maintained infrastructure having complete control within an organization. The data is shared between local machines via nodes on the local network. You gain peace of mind at a higher cost for this solution. Selecting servers and maintaining the same requires IT expertise. Though the data seems secured, some basic security measures need to be adopted.
Remote Storage improves accessibility, productivity, and efficiency of dealing with data.
What are On-Premise Storage Procedures?
This server model is self-created, and storage permissions are joint decisions of IT and management. It has limited access to selective people and no access to external parties most of the time. They store data locally on an internal server of the company. The users can retrieve data from authorized locations approved by the organization.
It isn't easy to manage, but some find it more secure and prefer to store all the vital business data internally. Multiple approaches to server capacity and infrastructure-related decisions require time, money, and technical expertise.
Why do organizations need On-Premise Storage?
Simply for the sake of preference or actual requirement does not matter, but it gives assurance of data safety to the customers. The companies have operational and managerial capabilities. Some companies want to stay in their comfort zone by not shifting to cloud storage. Few of them fear the change as the IT Partner withholds support.
Comparing cloud or On-premise storage
| | | |
| --- | --- | --- |
| Sr. No. | Cloud Storage | On-Premise Storage |
| 1 | Quite Affordable with a subscription model | Expensive due to ongoing large investments |
| 2 | Managed by the third party | Self-managed |
| 3 | External Servers | Internal Servers |
| 4 | Lesser responsibility of IT Team | Higher responsibility of IT Team |
| 5 | Auto-updates and auto backups | Manual updates and manual backups |
| 6 | As and when approached, a lesser initial investment | Huge investment for servers and hardware |
| 7 | Greater flexibility with different storage capacity plans on cloud | Less flexibility, Fixed storage capacity |
| 8 | Backups stored on the cloud | Backups stored on local server/disks |
| 9 | Better accessibility | Limited accessibility |
| 10 | Low risk of losing data | High risk of losing data |
Benefits of Cloud Storage:
Affordable: There is no investment in assets, and the subscription plans let you save on hardware maintenance costs and human resources. You get access to the latest software at fair rates.
Easy Deployment: The data deployment is less complex and quick.
Capacity: Depending on the storage needs for various types of data files, you can opt for free or paid solutions.
Accessible: Restriction less access from any browser and any device.
Consistent: It ensures consistent performance irrespective of single or multiple device login.
Security: Being on an external server, you need to verify the security measures taken by the cloud service providers. Beyond that, data encryption gives higher protection. Continuous monitoring maintains the activity log, notifies unauthorized access, and ensures data security.
Backup: Automated process of backup helps scheduling backups and storage on an external server.
Customization: According to the changing requirements, you can select the storage on the cloud. You can design your cloud storage in just a few clicks to meet business growth.
Support: Vendors provide cloud storage, but you also need reliable help for any issues you may face. The main reason you opted for cloud storage is technical support.
Scalability: No need to build and manage a server, scale up or down, or auto-scale using services on cloud storage.
Benefits of On-Premise Storage:
Security: Close vigilance and in-house data help protect data from hackers and reduce data breaches. Sensitive data remains in safe hands of the organization's IT team.
Data Tools: You can choose the required data protection tools that suit your business applications on-premise security.
Offline Storage: The expenses on the internet for data upload/download are reduced. Continuous access is available as it works without internet, plus you face no internet speed issues.
Accessible: You can access data without internet dependency. The in-house servers are not accessible outside the network.
Customization: You have the freedom to handle and design the data storage for in-house use. You need to select the right software, licenses, and other infrastructure.
Authority: You have complete responsibility and authority over the storage management.
Flexibility: Internally, the managers decide for the updates on storage needed for new projects or applications. Complete ownership lets you handle the storage plan.
Limitations of Cloud Storage:
Internet Connectivity: User experience relies on internet speed and stability. The lack of proper connection can create loading issues and slow down the application. You may even lose access to file due to internet drops or failure.
No Copy: The data is entirely on the cloud, and absolutely no data on local storage may create a delay in decisions.
Uncontrolled Costs: Without IT experts in a company, data storage plans can go wrong. Unmanaged storage also increases costs, and unused cloud storage is an additional loss. Many employees who need access to data will add to your internet expenses.
Service Clauses: The cloud service provider has access to your data and can land you in trouble if you have not read the service clauses.
Security: The data security is in the hands of service providers, and we assume that it is inline. Understand the security practices of third-party service providers and watch the security practices followed. Remote hackers, data breaches, and ransomware attacks are significant risks for security.
Scalability Costs: Consumption-based cloud storage increases your costs with storage needs, and monitoring the repository is an additional task.
Long-term Costs: In the long run, subscriptions costs may rise to the extent that you would find license fees lesser.
Customization Issues: Not every service provides customizable cloud storage options, lowering the flexibility that was the main reason for choosing cloud storage.
Limitations of On-Premise Storage:
Scalability: It is challenging to manage the changing workload, monitor systems, handle hardware and software for the storage demand. Increased users or added office locations lead to more hardware and software installations. This slows down and limits the scalability.
Investments: Initial capital investment is high, and you may need to invest more for an ongoing requirement.
Power Backup: Data accessibility requires continuous power and battery/generator backup; this will also add to your costs.
Maintenance Costs: The IT support team hiring in-house is a considerable expense. An increase in userbase will raise the requirement for more IT staff to manage servers. Repairs and the purchase of new software licenses are expensive.
Compliances: Self-managed data storage will need in-house ability to adhere to your industry compliances. It will require employees to monitor and audit the infrastructure compliance to match the regulations.
Data Loss: Various reasons like system malfunction, cyberattack increases risks of data loss.
Multiple Locations: Operational costs will increase if you have multiple offices that need to access the data or have remote employees.
Longer deployment time: Deployment gets delayed on-premise as you need to prepare for the software and hardware required.
Data backup: Higher risk of losing data stored on a local server, and some incur higher expenses by holding a part of the data on the cloud.
Which is better – cloud or ON-PREMISE STORAGE?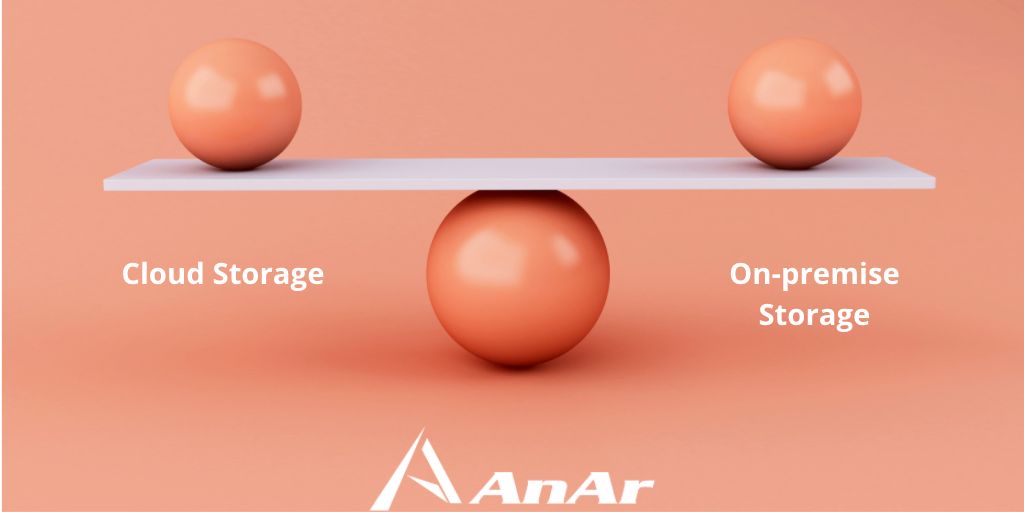 Both storage options have their own set of advantages and disadvantages. You can decide if you are aware of your actual storage needs as an organization. An initial comparison may be unclear, but feature-wise understanding is essential.
Startups prefer greater control, and they get it on-premise. However, it significantly increases initial infrastructure investment. Hence rather than the capital investment, they should opt for cloud storage.
If you have a robust infrastructure and IT team, then on-premise storage will benefit better control and utilization of existing resources.
On-premise storage vs cloud storage: Where to store your business information?
Cloud servers are perfect for storing, share and versioning data. You can increase security with multi-factor authentication. The legacy systems can be brought to the cloud if you streamline the entire infrastructure for better use of resources.
Cloud servers face downtime due to internet outages creating a barrier for accessibility. A cloud service provider's data center may face issues, but still, your data can be retrieved. You can use the private cloud for higher security instead of the public. If you cannot modernize the legacy systems, specific data points will remain on-premise.
Conclusion
Deciding on the Data Storage method for your organization is critical. Your needs for data protection, security issues you face, cyberattacks, and access to data will drive the selection of cloud storage solutions.
Today, most businesses are moving to the cloud as storage management for apparent benefits, discussed earlier.
If your premise has challenges with the internet and you need data access internally, the storage decision can lean towards on-premise storage.
The bandwidth the application needs and the application data are growing continuously, needing to store it for future use. User expectations, geolocation of users, response time, availability of application can be critical, decisive factors.
The initial choice will be between on-premise storage or cloud storage. Later, if you choose cloud storage, you will have to compare cloud storage service providers. You can adopt a mix and match strategy of physical and cloud storage.
Technology is evolving continuously. AnAr can work with you to analyze various options to help your business make the proper selection. Get in touch to schedule a discussion with our tech experts.