What is the role of CIO in an organization?
Chief Information Officers (CIO) take care of the IT needs of the company. They act as a connecting link between the business and user needs. The key areas they focus on are drawing business value using technology. Align the business processes and systems parallel to the business goals.
Availability of proper IT Architecture in the organization for managing the development and IT teams is in CIO's control. Policy formation, standardization, and implementation of strategies require deep knowledge of risk management. The role demands detailed planning, budgeting, and training the resources.
CIO's vision encourages the development of newer technology-based solutions that give technology a new future.
Pandemic and its impact on business:
Irrespectively of the business type, this pandemic has a huge adverse effect on business. Challenges differ from sector to sector but most common issues we can relate to are unmanageable work, interruptions in workflow, and change in implementation of newly formed policies.
What has changed with Covid-19?
The way we do business, our interactions, means to serve our customers and consumer behavior, everything has changed with Covid-19.
Adoption of technologies would accelerate and support new business opportunities.
Technologies that will be of help post covid:
Tools for virtual meetings
Remote Monitoring Solutions
Artificial Intelligence-based communication
Improved IoT Solutions
Tracking Solutions for logistics
Geo-positioning indicators
Geo-restricting tools
Better data collection mechanisms
Stronger Internet network
Satellite Connectivity
Post Covid preparation:
The Covid-19 has stabbed the world economy wherein India has chosen a tough path of lockdown. The efforts to save humankind have in a way added to the struggles of a common man as well as the business enterprises.
With unbearable losses to recover from needs highly committed team members
Multiple skill sets and acquiring new skills is mandatory for survival in the market
The preparation phase is full of trial and errors
Selection of the platform, technology and its strategy for transition have a specific position in the plan for future
Technological skills are necessary, they build a distinctive support system for better management
Creativity at its best is guaranteed, but managers need to go a extra mile and keep the team motivated
Actions for business continuity and improving revenues in coming months
Companies to experience a push and urgent need for automation
Use Artificial Intelligence and Machine Learning to modify products and services
Faster decision making for a proactive approach to meet customer needs
Why CIO's can prepare us for Post Covid era?
Educational qualification and technological skills Chief Information Officers possess benefits the organizations in strategic perspectives.
Qualities of a CIO:
Business Intelligence
Planning and setting procedures
Leadership potential
Administrative and managerial skills
Project Management Skills
Customer Relationship Management
Technical skills and in-depth knowledge
Manage enterprise knowledge resources
Awareness of the latest technological advancements
Foresee Risks
Actionable Items of a Chief Information Officer (CIO):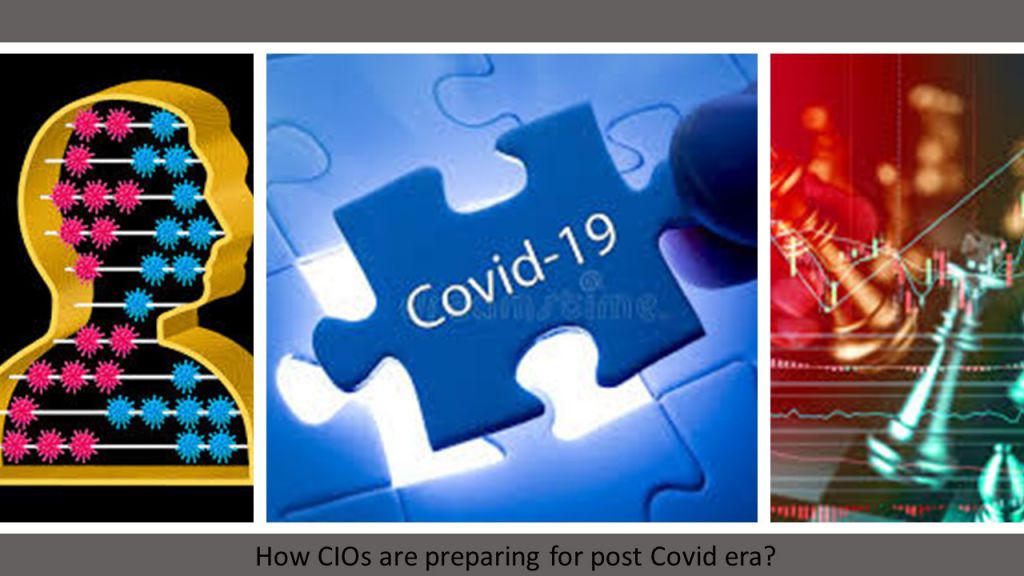 Preventive Measures: Industries and companies require expertise of human and their intervention. To continue the businesses the preventive measures for post covid preparation is a known fact. Social distancing, safe environment for work, maximum opportunity for work from home, use of digital technology for communication and meetings are few to name.
Better Strategies: No strategy is fool proof; it changes with the situation and business growth. Post covid preparation needs appropriate defining and implementing of strategies. Every domain is redefining their success strategies. Something that worked wonderfully is on a roller coaster, and the unexpected space needs exposure.
Virtual Work Setup: The managers and leaders will have to create a virtual work setup for easy coordination. Post covid preparation involves accurate platform, reporting structure, stronger applications, well-built communication channels, and ease of functioning. The transition to virtual work will need better internet connectivity, trust factor; mutual understanding and most important is the latest technology. New routines will have to be set up for desired results. More bandwidth and the expenses relating to it may initially increase but will settle down soon. Scattered manpower requires better control and an effective reporting structure.
Skill Assessment: Extremelyessential for Post covid preparation is skill assessment. Evaluate the Resources vs. Skills, and Acquirable skills vs. Existing skills. Currently what is the status of skills and during this time, what skills your team is committed to acquire. By attaining new levels the skills and its implementation quotient directly changes.
Capital Restructuring: To draw profits Post covid preparation; capital restructuring is a must. Chief Information Officer needs to plan for future hence finances for developments are of utmost importance. Anticipating the success is job of a visionary.
Third Party Collaboration: Decisions for the missing strengths or faster development of a company will lead to third party collaboration. Post covid preparation lays the responsibility on the CIO's who are deeply involved in what the team should develop or get it integrated. The time and funds required are crucial factors.
Plans for Future: We know how uncertain the businesses are but still we are used to the stability that our expertise brings to the business. Post covid preparation calls for new experts and expertise that are profitable for businesses. We need new plans is a known fact, but how do we measure the variable impact. CIO's will have to from new policies and a set of responsibilities that can sail us through this and other storms like this.
Risk Assessment: Professionally dealing with the current situation requires managerial skills. CIO's to manage the existing recruits, new recruitments, define roles and responsibilities to get maximum participation from the resources. Risks of recruiting new or a decision of not recruiting both has risk attached to it. Evaluation of multiple risks and going forward, its repercussions or probable favorable outcomes can be of major help. Assistance from CIO's at project level elevates the trust whether it is investment or budgeting and every single aspect that affects the profitability.
Redefining Strategies: Response to every newly implemented aspect will differ. Anticipation of the impact, where it is likely to work or is there any need to change our strategy. We may need to drop few ideas, as we have never faced such circumstances. Post covid preparation at least enhances the ability to deal with probable solutions.
Business Sustainability: Keeping the business going in the tough times is like walking on a wire. Streamline the operations to come out of the unfortunate pandemic that caused hammering losses. Post covid preparation is mandatory to survive the greatest crisis that has changed our experience, purview, and outlook. Expansion of technology space is like an open field for experimentation.
Competitive Advantage: Organizations that are playing on front foot with their solutions involving technology have a great competitive advantage. Adapting new technology includes learning curve. It takes an adequate amount of time to launch technology-based products/ services.
Infrastructure: Supporting infrastructure, its architecture, and development of new systems all will need more attention. Demand and supply gap is high because of shift of focus and new engagements. Clarity of infrastructure seen over a period will be temporary, rather short term. A long term planning is not what we can work on during this phase. Prioritizing will move things fractionally but in the right direction.
Centralization: Keeping centralized control is difficult in these circumstances; redefining roles will have new bundles of responsibilities attached to it. Like, new work models we are about to witness new tech-enabled business models. A new balance of business and social distancing compliance will soon become a new routine.
Customer Experience: Internal and external customers are aware of the challenges still have some expectations. Post covid preparation CIO's new focus will be an organizational structure to uncover a mindset that is stronger yet flexible. Acceptability is a positive force for better customer experience and company culture.
Positive Impact of Covid on Business:
Enforced Contingency Plan
Automation at its best
Polishing skills
Better utilization of capital
Better cash flow management
Maximized Digital payments
Improved managerial skills
Acceptance of the situation
Adaption of new age technologies by every sector
Stronger comeback
Indentifying new possibilities
Boost in online traffic
High tech security and better controls
Defining new workables
24X7 operations with remote opportunities
Final Thoughts:
The slowdown has evidences of new challenges across sectors and jobs. Access to jobs is restricted, and the limitation is the new possibility with new realities. Answers to uncertainties are what you can expect if there is enough Post covid preparation. CIO's must demonstrate patience, and leadership capabilities to deal with issues that cropped up during pandemic. Digital technologies shall transform the business world for better. Global crisis has shared equal opportunity of growth; grab it now.