Bugs affect your software product like mice in cornfields eating up your hard-earned prestige. Intricacy to identify bugs leads to the ultimate failure to deliver quality.
How bugs influence your business and thrive due to no usage of bug tracking tools?
Impact highly depends on the sector and use of software, e.g. software that calculates the amount of medication based on the current state of a patient requires being more precise than the one that pulls data of visitors on a site per day.
Unrevealed bugs remain hidden and act as parasites that flourish to become huge enough to ruin your team's efforts.
Bugs cost your reputation and brand name, the involvement of experts to solve the issue, loss of customers, spreads negative opinion, adverse effect on long term sales, and financial setback.
Unhappy customers and employees both underline their concerns; you need to read those in time and take support from Bug Tracking Tools.
What are the Bug Tracking Tools and what's the purpose of their existence?
Smooth and flawless functioning of software is a fundamental criterion for every user. Customers have ample of options and less patience to stick to a company that is lethargic or inefficient to find bugs on their own.
Speed and quality is the key to market survival. Bug Tracking Tools assist in managing the projects, and development teams. Take more control over the quality of products or services you deal in. Faster identification, tracking, monitoring bugs for quicker resolution, and getting back on track is the aim of using bug tracking tools.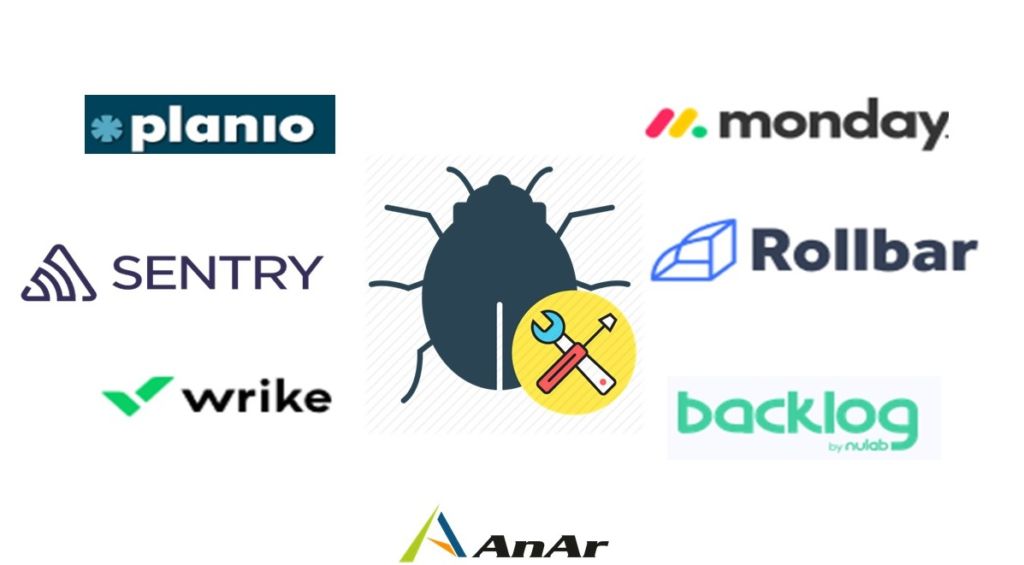 Still worried about entering the maze, we come to rescue you with our analysis on Top 7 widely used bug tracking tools.
Backlog: It is a nice combination of projects and an easy bug tracking tool.
Features, Benefits and Drawbacks:
Native mobile apps, two factor authentication, and IP address access control
Every user can report a bug, update status, check the history and put comments
Kanban-style boards to visualize tasks and progress, Gantt Charts and Burndown charts
Simple to document, Push notifications for new issues, available history for issues, and best while working remotely
Easy integration with Android App, iOS App, E-mail importer, Jira importer
Proper task management, team collaboration, and version control
Filtering issues is troublesome due to repeat entries, internal filtering within a bug category is not available
Smartphone app requires improvement
Pay-as-you-Go and quite reasonable
Plans: Starter- $ 35/ month, Standard – $ 100/ month, Premium – $ 175/ month, and Free
https://backlog.com/bug-tracking-software/
Companies that use Backlog are SoftBank Robotics, Transferwise, Adobe, Droisys, and many more
Monday: It is a bug tracking platform that manages scrum, and agile teams using desktop and mobile apps.
Features, Benefits and Drawbacks:
Improved task management and team management with easy to add, track and assign issues
Better to support large teams and multiple projects, visualize tasks for workload management
E-mail and desktop notifications but no inbuilt chat or video tools
Filter and prioritize the bugs
Two factor authentication
Easy integration with other apps Jira, Trello, Zapier, Mailchimp, Gmail, and Google Drive
Integration with MS. Outlook and Hubspot is tedious
Pricing structure has a minimum of 10 seats that can be of concern to few
Few features need you to invest time before you actually use them
Plans: Basic $8 person/month, Standard $10 person/month, Pro $16 person/month and Enterprise, free trial
https://monday.com/s/bug-tracking-software
Companies that use Monday are Uber, Adobe, Universal, GE, Genpact and many more
Sentry: Cloud-based self-hosted web and mobile app.
Features, Benefits and Drawbacks:
Simple interface, effective for grouping errors, and tracking regressions
E-mail issues on the production backend server and workflow notifications
Great for Gaming and IoT applications
Lets you use the pre-existing libraries of the framework
Integration for different programming languages
Few issues with integration of HTTPS sentry link with Node.js.
Price on higher side for smaller projects
Configuring customized alerts is troublesome
User traffic impacts the display of errors in projects
Plans: Developer (Free), Team – $26 per/month, Business – $80 per/month, Enterprise
Companies that use Sentry are Symantec, Cloudflare, Adroll, DataDog, and many more.
Planio: A simple cloud based bug tracking and management tool.
Features, Benefits and Drawbacks:
Central database of documents
Great repository for projects and issues associated with the revision of code
OpenPGP encryption for email notifications for the same transmission of sensitive data via e-mail
Time tracking and team chat for enhanced productivity
Custom fields and statuses of issues
Eliminating completed tasks is not easy
Configuration of MS. Outlook and Thunderbird is difficult
Improvement needed in Gantts graphical presentation
Plans: Silver 19 € /month, Gold 39 € /month, Diamond 75 € /month, Platinum149 € /month,
Companies that use Planio are hkk Health Insurance, MTV Networks North Europe, Software AG, CNET content solutions, and many more.
Rollbar
Features, Benefits and Drawbacks:
Give ownership for errors and set priorities in production
Error monitoring tool for agile development
Traces the root cause of errors
Automatically gathers data about an error
Real-time visibility and instant alerts
Easy integration with Pivotal Tracker, GitLab, HipChat, Buddy, Octopus
Solved errors resolved the raised ticket automatically
No web page notification, only an e-mail notification is a limitation
Viewing all project errors in a single view is a paid feature
Plans: Essentials from $1/month, Advanced $83/month, enterprise Free trial
Companies that use Rollbar are Fintech, instacart, twilio, branch, and many more.
Wrike: Manage multiple projects with desktop and mobile app.
Features, Benefits and Drawbacks:
File sharing and real-time activity
Cloud storage integrations with Dropbox, One Drive and
Better teamwork with task management and team organizing tool
Efficient to manage large projects with admin control
Automatically assign for tracking
Learning curve for new users
Integrations with MS Outlook and Zoom is expensive
Bit pricey compared to other options
Plans: Professional – $ 9.8 per user/month, Business – $ 24.8 per user/month, Enterprise, andFree for 5 users
Companies that use Wrike are Google, airbnb, Siemens, Dell, and many more.
Mantis BT: The web application and mobile version of Mantis is a bug tracking tool built on PHP.
Features, Benefits and Drawbacks:
Open source bug tracker
Customize fields and notifications
Role based access control
Simple to use and easily manage larger projects
E-mail notification for users and clients and Chat for better control
Direct interaction between users is missing
Installation and customization process is pretty complex especially with no documentation
Plans: Free trial
Companies that use Mantis are Tetra Tech Inc., Freelock Computing, EnOcean, SOAINT, OATI, and many more.
The cost of recognizing the bugs using Bug Tracking Tools is certainly worth and satisfying than strong-worded customer feedback.
Accentuate the need to identify bugs, use automated tools to ease, and sophisticate the overall process. Free your product from enduring damages caused by bugs.