Following the pandemic, the world is hastily moving towards a rebirth, and every organization is attempting to stand again with infrastructure that is both modern and fit for the future. According to a study, the need to quickly adapt to digital and cloud-based business models during this epidemic has sped up the digital transformation. It has provoked businesses to opt for legacy application modernization services.
Like every other business, you can follow the trend and start planning your legacy application modernization strategy. But to devise a successful modernization strategy, you should ask these ten questions for Legacy Application Modernization, keeping in mind the critical function that these legacy apps serve in a company and the pressing necessity for their modernization.
Why Is Modernization of Legacy Apps Getting Adopted Rapidly? 
Programs for modernizing legacy apps have become more popular recently. According to a survey by MarketsandMarkets, the size of the global market for application modernization services is to increase by 16.8 percent CAGR from approximately USD 11 billion (Current) to USD 24 billion in the coming years; this is more than double the current market share.
The COVID limitations have furthered the trend of organizations switching from conventional servers to cloud-based servers, which was already in motion. Once more, this change has long been the main reason for application modernization. By 2024, spending on existing system infrastructure, business process outsourcing, and infrastructure applications will transition from traditional solutions to the cloud," according to Gartner, will be over 45% of current spending.
The performance of the programs has also increased because of other technical developments, such as the using DevOps, Cognitive AI, and Machine Learning by service providers to automate, swiftly develop, test, and distribute software and apps. The duration of application modernization programs has been shortening significantly because of the efficient adoption of the Microservices architecture, technology, and process advancements in software development. Consequently, encouraging companies to worry less and modernize more by asking these ten questions for Legacy Application Modernization.
What could be the reasons for an Unsuccessful Modernization Strategy?
Modernizing legacy systems is critical because the entire firm depends on such software. Therefore, any procedural error could result in the Modernization Program's collapse.
Other significant causes of failing modernization programs include:
Instead of progressively implementing a new software ecosystem, attempting to replace the entire existing one all at once.
Designing for unrealistic flexibility ultimately results in apps lacking the ability to meet essential operational needs.
Pushing employees at your company to adopt new software rather than modifying it to meet your needs.
Adopting a strict software architecture that is frequently inflexible toward demands for further evolution will be necessary.
Every stage of software development within the modernization of legacy applications involves the consideration of customer feedback. Skipping this step can result in program failure.
Now that we have discussed the rapid growth of the adoption of legacy modernization and the causes which can be the reason for failing strategies.
Let's dive further and discuss the ten questions for Legacy Application Modernization.
10 Questions for Legacy Application Modernization that you must ask before devising a Strategy
Decision-makers often need a thorough grasp of the various legacy modernization techniques, the benefits and drawbacks for their companies, and the process involved to make sensible decisions for a particular transition to modernization.
Also read – How to Choose the Best Legacy Application Modernization Strategy? — The 3 Steps Process
You can better grasp all the factors influencing the modernization program by reading the ten questions and answers for legacy application modernization we'll discuss below.
1. What is the business risk of not modernizing legacy apps; or potential loss?
According to a Vanson Bourne research report from 2018, businesses that choose to update their outdated IT systems could achieve a 13 percent decrease in overall operational costs. The same survey claims that firms with upgraded legacy apps might increase their revenue by about 14% annually, which equates to almost $1 billion annually.
The above statement implies that the operational costs of enterprises that ignore the demands of their legacy application modernization will increase. Such Organizations will eventually have to give up on prospects for scaling, endure a buildup of debt, and, in the end, discover that their operations are not viable. Organizations will need to support several Intelligent Apps, Cognitive Services, and servers that can meet the need for new and innovative ways of user engagement if they are to keep up with the Digital Transformation. Otherwise, they have to lose all the opportunities for capitalization.
2. What risks does modernization present for my business, and how can I reduce those risks?
Businesses should be aware of potential quality losses and cost factors while phasing out outdated programs, according to Gartner Research 2019. Risks include operating modernized platforms without the necessary skills, dealing with security vulnerabilities on newer platforms, etc.
However, the following are some suggestions for reducing the risks associated with modernization:
The migration can take a while. Therefore, it is significant to think about the overall transitional costs upfront.
You can use automation during Application development and testing to speed up transitions and eliminate error-prone situations.
A quicker transition time and removing error-making opportunities are two benefits of using automation during app development and testing.
Instead of being based on a broad trend, the modernization of legacy apps should be assessment-based and tailored to the needs of the company and industry.
Consider a longer time horizon while evaluating the new platform for the flexibility needs of quickly evolving technologies.
It is advisable to work closely with your Legacy Apps Cloud Modernization service provider when taking action to reduce business risks during modernization.
3. What were the major obstacles to modernization?
According to the 2018 BMC Mainframe Survey, thousands of global-scale enterprises still rely on 30 to 60 years old corporate software. While modernization has increased in past years, a few things are functioning as a barrier.
However, enterprises have begun to realize that relying on obsolete applications can be a significant risk; and must be addressed immediately with a well-planned modernization strategy.
The most important consideration is cost. Modern platforms necessitate investments in technology, skills, infrastructure, and other areas.
Organizations aim to avoid the risk of operational failures if legacy app modernization does not go as anticipated.
Transitioning a company from decades-old legacy programs to new cloud-based servers and modernized apps can be difficult for the fundamental ways of doing business.
Organizations typically enter into long-term contracts with Data Centers to use their services; these contracts subsequently constitute a stumbling block during the relocation of servers and software.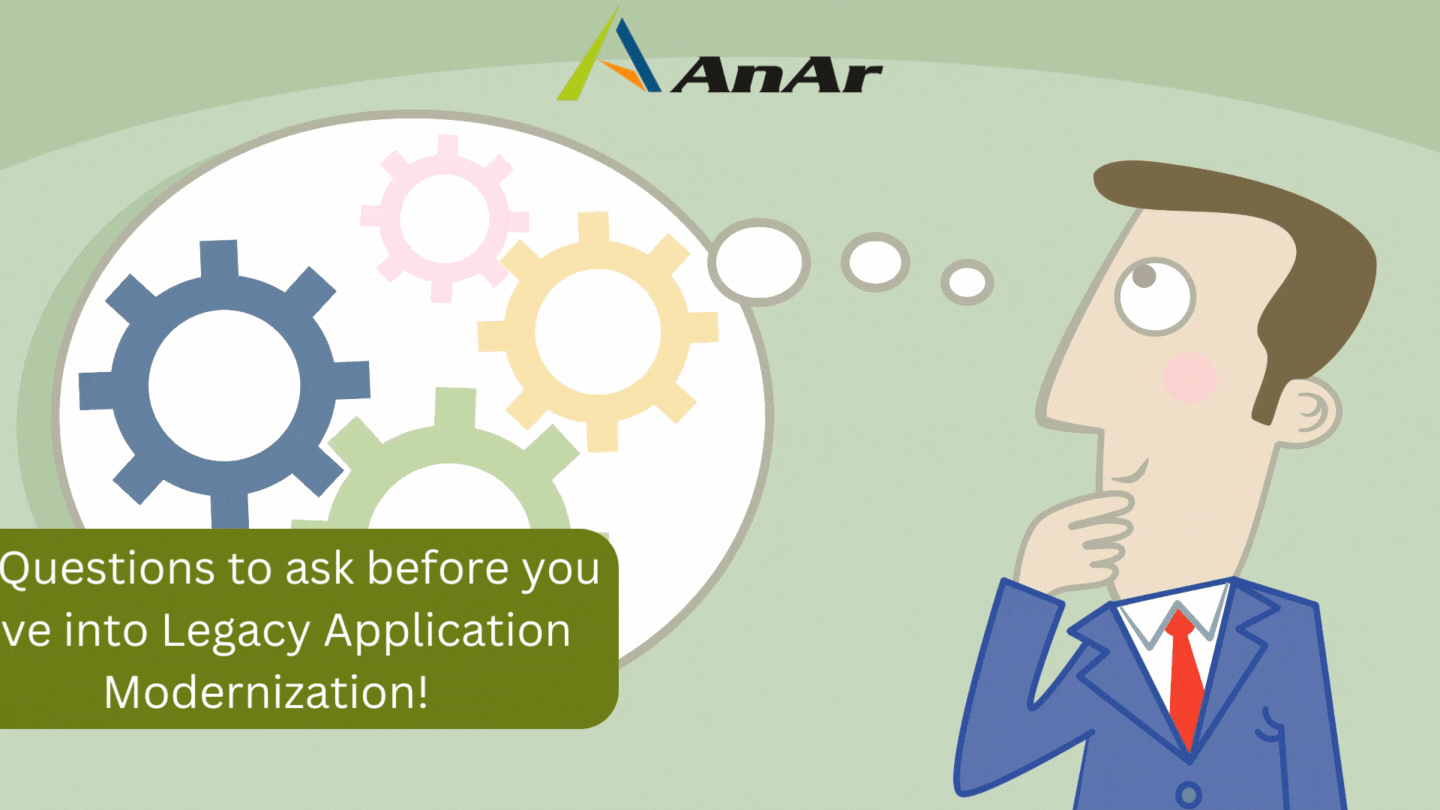 4. Is the Modernization effort providing any intangible benefits?
Yes, there are substantial benefits to Modernization Programs, making them a priority for enterprises all over the world. A switch from old Legacy programs to the most recent software immediately allows your company to benefit from all of the technical developments in Artificial Intelligence, Intelligent Applications, and Automation. These intelligent connections with the firm's infrastructure increase user engagement and present your organization with newer and more scalable prospects.
Among the numerous advantages are the following:
Modernization enables businesses to incorporate AI features into their applications, such as Chatbots and Intelligent Assistance, to end-users, ensuring customer happiness.
Integrating AI through modernization minimizes manual labor inside the business by automating operations such as security checks, data entry, and troubleshooting.
Organizations can save their operating and maintenance costs by modernizing their legacy apps.
5. Has an application evaluation been performed? Is a cost-benefit analysis completed? Is a health check of the application performed?
The evaluation and overhaul of the system to organize the transition process is one of the essential components of the modernization of legacy applications. Businesses rely on legacy apps for most of their business and operational requirements. Therefore, it is crucial to perform an application assessment and determine which apps need modernization and which one need other creative solutions.
Tolerate, Invest, Migrate, or Eliminate are the four categories used by Gartner's TIME analysis to classify the application.
The application's evidence-based business value analysis is another significant component. You can use monitoring to analyze the application's business value and usage to gather data on usage and take appropriate action.
6. Do I modernize first, then innovate, or do I provide creative extensions first, then rewrite my legacy system?
According to a report by Gartner on the low-risk approach to modernizing legacy applications, CIOs should look for creative alternatives to rewriting the system from scratch all at once.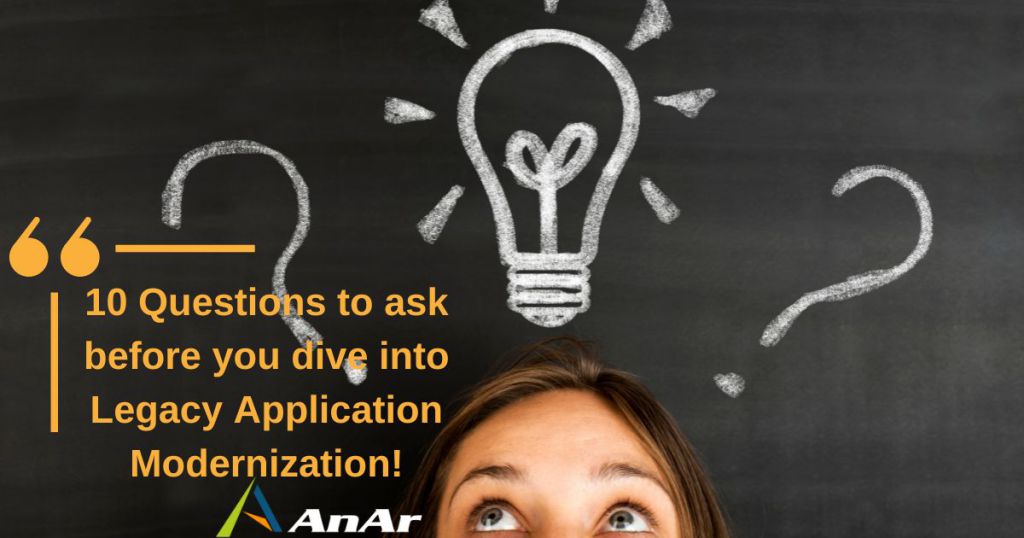 Using legacy software APIs and microservices is one of the low-risk methods that companies can use to innovate their way into modernization. While modernization is a lengthy and tedious process, businesses can enable Legacy Apps API, allowing users and organizations to conduct business, while using extensions and a set of intermediaries. Power App integration, AI-enabled bots, and other cutting-edge techniques can lighten the burden on Legacy Systems during Modernization.
7. How can I obtain an ROI quickly? Should I approach modernization tactically or strategically?
You must follow both paths to guarantee the organization's modernization is successful. When discussing a speedy return on investment, you must adopt a tactical strategy that prioritizes short-term objectives.
To provide your business services with a modular structure and eventually accelerate ROI, the ideal way to use a tactical strategy is to break all the services into smaller units called microservices. Long-term, when the organization's total growth is more important than the immediate ROI, the significance of a strategic strategy becomes more realistic.
8. How can I prepare a team for transformation and the future?
Only with trained staff members can legacy application modernization programs be used to their full potential. Although assembling such a team can be difficult, there are a few ways for a company to train & prepare the team for the future.
Outsourcing to engage experts — Businesses should delegate the work to industry professionals. It might be more expensive to train new personnel than outsource the need.
Internal/External training — Organizations must spend money on employee training to meet the demands of the newest technology. While organizing external training with consultants and specialists in particular platforms and applications can be more advantageous, internal training can still be helpful.
Cultural changes also come as a result of modernization. The acquisition of a workforce with specialized skills is necessary for the adoption of cloud computing and DevOps. Additionally, it necessitates cooperation between the development and operation teams, which is not compulsory with Legacy Apps.
9. Do I have proofs of concept, landing zones, and reference architecture to ensure effective modernization?
It is critical to have reference architecture and proofs of concept (POCs) ready before beginning the modernization process. According to the Advanced research (quoted above in the article), 74 percent of firms fail the modernization program, and one of the reasons for this failure is not making adequate efforts to mitigate technical risks.
10. How can I ensure that the business, technical, and financial leadership are on board?
Choosing the appropriate business case for modernization is the best method to guarantee leadership support for the legacy application modernization effort. Filtering and identifying the outdated applications that require modernization is a crucial first step in creating a business case.
Setting the goal for modernization, assessing the program's cost, developing a plan to reduce risks, and so forth are some additional steps you can take to get leadership support.
Final Wrap-up
Due to concerns about cost and security, there is hesitance surrounding the modernization of traditional applications for the cloud. However, by asking these ten questions for Legacy Application Modernization, you can address these concerns on time and with much lesser effort.
So, are you prepared to go on the journey of updating your legacy software? With adequate preparation and the right personnel on your team, you will be on the right track with a personalized modernization approach. AnArSolutions development team has extensive expertise in upgrading legacy applications and working with clients in complicated situations. 
Click here to start a conversation with our development team to put your next modernization project on the right track.