Drive efficiency and success with strategic application modernization services
We provide comprehensive application modernization services that target cost reduction, enhanced features, performance, and security of legacy apps, while ensuring long-term scalability and ease of maintenance. By following established software modernization and risk management practices, AnArSolutions enables businesses to derive fresh value from their existing solutions through end-to-end app modernization services.
"Modernization is driven by innovation, especially as the utilization of cloud technology continues to skyrocket. The advantages of scalability and agility provide organizations with a clear competitive advantage. However, digital transformation extends beyond being merely competitive."
Our Process
We have developed a streamlined 3-step process for Legacy Application Modernization that ensures efficient and effective transformation. Our process is designed to help businesses unlock the full potential of their legacy software and drive meaningful value. Here's how we approach modernization: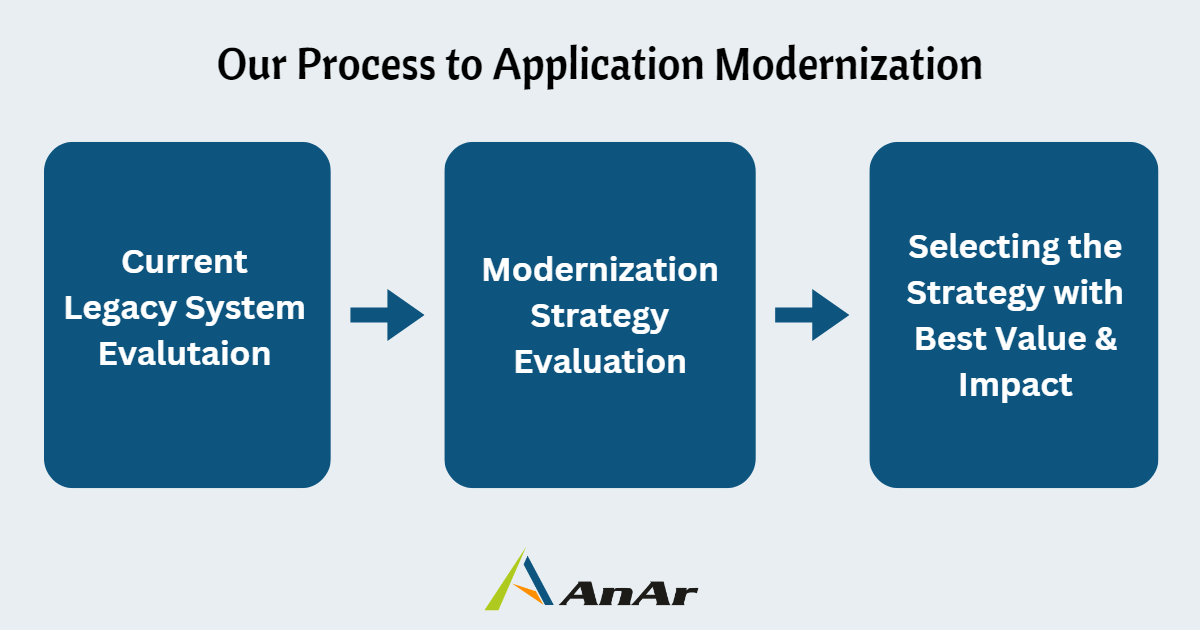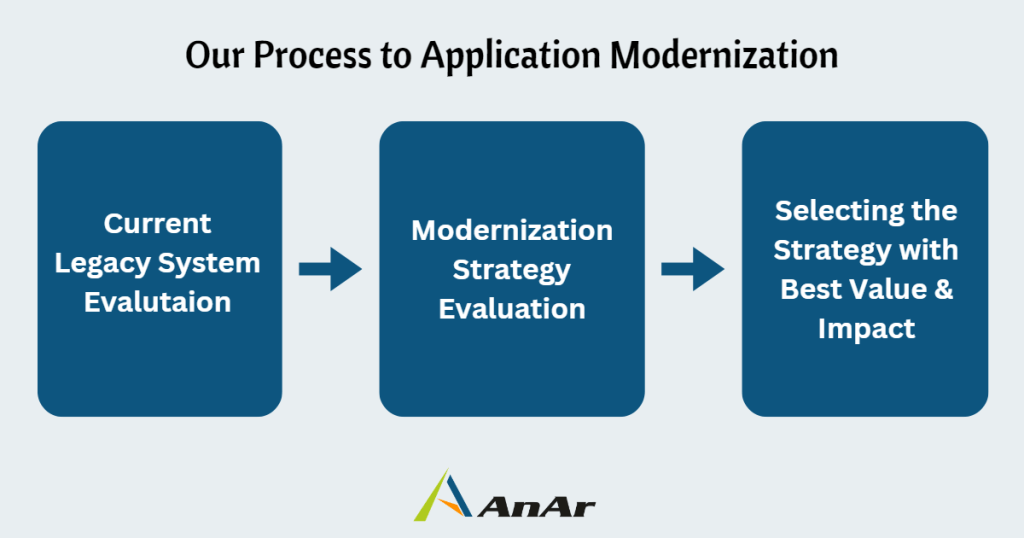 Step 1: Evaluate Your Current Legacy Software
We start off by conducting a thorough assessment of your existing legacy software. Our experienced team of experts meticulously examines the code, architecture, functionalities, and overall performance of your application. This evaluation provides us with a comprehensive understanding of the strengths, weaknesses, and areas of improvement within your legacy system.
Step 2: Evaluate Different Modernization Strategies
Once we have gained a comprehensive grasp of your existing legacy software, we analyze various modernization strategies that align with your specific business goals and requirements. Our team considers factors such as scalability, performance enhancements, security improvements, and integration capabilities. We carefully assess options like rehosting, re-platforming, refactoring, or rebuilding, and recommend the most suitable strategy to achieve the desired outcomes.
Step 3: Selecting the Modernization Strategy with Best Impact and Value
In the final step, we work closely with you to select the modernization strategy that promises the greatest impact and value for your organization. We present detailed insights and recommendations based on our evaluation, considering factors such as cost-effectiveness, time-to-market, resource utilization, and long-term sustainability. Our aim is to ensure that the chosen modernization strategy aligns perfectly with your business objectives and provides tangible benefits.
Throughout the entire process, our team maintains open lines of communication, collaborating closely with your organization to address any concerns, answer questions, and provide regular progress updates.
"The global landscape has been significantly reshaped by transformative technologies like artificial intelligence (AI), robotic process automation (RPA), blockchain, analytics, and cloud. In this rapidly evolving digital environment, it is crucial for existing IT systems to seamlessly integrate with these technologies, ensuring rapid connectivity and effective deployment."
Our Capabilities
We specialize in partnering with organizations of diverse sizes to facilitate the modernization of their applications. Our team aids you in assessing your current workloads and supports you in creating a roadmap for digital transformation. This roadmap encompasses recommended architecture, a comprehensive modernization plan, and a business case that outlines anticipated ROI and savings in total cost of ownership (TCO).
1. Application Assessment
AnArSolutions assists you in gaining insights into your current application infrastructure, enabling you to have a precise understanding of your legacy systems. We evaluate your existing workloads and align them with your organization's vision, empowering you to make informed decisions throughout the application modernization process. By leveraging our expertise, you can confidently embark on modernization initiatives, ensuring they are strategically aligned with your organizational goals and yield optimal outcomes.
2. End-to-end System Migration
Leveraging our extensive experience in application migration, we facilitate seamless workload shifting from one cloud platform to another, ensuring zero disruption. Whether you opt for rehosting, refactoring, or re-platforming, AnArSolutions is fully equipped to handle your needs. In addition, our services encompass implementing source code changes, migrating databases, deploying and conducting thorough testing, as well as providing comprehensive documentation.
3. Application Rearchitecting
Leverage the expertise of AnArSolutions cloud architects to rearchitect your application and seamlessly migrate your legacy logic and code to a new platform, tailored to optimize your business capabilities. Our team ensures that your application infrastructure is aligned with the latest trends, employing the best techniques and architectural approaches to drive efficiency and maximize your competitive edge.
4. Application Redesign
Our team of designers works in close collaboration with you to provide an outstanding experience that places human-centric design principles at the forefront of the application redesign process. From reassessing your user interface and user experience to conducting user testing, we assist you in creating a strong connection with your target audience, ultimately advancing your business objectives. Our focus is on ensuring that your application resonates with users, enhancing their satisfaction and driving your overall success.
Why choose AnArSolutions?
With AnArSolutions, you have the opportunity to create a tailored solution that perfectly aligns with your business objectives. We are committed to helping you harness the full potential of end-to-end application modernization and achieve remarkable success.
1. Streamlined Communication
Streamlined communication, both within and between teams, ensures a seamless workflow without any loose ends. Regardless of language barriers, you can always stay on the same page as our developers, fostering effective collaboration and understanding.
2. Versatile & Flexible team
Equip your business for success with an exceptionally versatile team at your service, allowing you to expand without compromising quality. We possess the capability to expand our capacity while upholding a personalized approach, guaranteeing that we are sufficiently equipped to meet your specific needs, yet still able to deliver dedicated attention and support.
3. Complete Involvement & Control
From the initial ideation stage to final delivery and ongoing maintenance, you retain complete autonomy and decision-making authority throughout the entire process. We assume the responsibilities of your project while ensuring that you remain in complete control and actively involved in steering the direction.
4. Inherently Agile
As market trends and customer expectations evolve constantly, it is crucial for your business to stay in sync. Our exceptional agility empowers you to adapt and pivot strategies effortlessly, ensuring that you can quickly respond to changing market dynamics and customer demands.
5. Transparent Culture
We foster such accessibility and openness that you will perceive us as an integral extension of your team. Through regular reports, access to tools, and a cultivated culture of transparency, we ensure you are well-informed of all developments, keeping you updated and involved every step of the way.
Got more questions?

Visit the F.A.Q section or book a free consultation with our Application Modernization Expert!
---