Transforming Your Cloud Infrastructure with our Strategic Advisory Services
No two journeys to the cloud are the same. That's why we take the time to comprehend your technology landscape, business challenges, and goals. This allows us to customize our cloud services to fit your exact requirements using proven methodologies.
"The realm of technology undergoes swift advancements. While you might have a clear vision of your desired IT environment, you may not have a roadmap for attaining it."
AnAr Solutions knows how to prioritize your IT needs to meet your business goals. We have the skills and experience to help you avoid costly mistakes, so you can make the most of your investments without accumulating more technology debt.
Our Cloud Advisory and Migration services are designed to make IT transformation and modernization easy for you, no matter what industry you're in. We provide a tailored plan for migration and optimization that will enable you to successfully transform your IT foundation and fuel business growth.
Our Portfolio of Cloud Advisory Services
To help you achieve a seamless migration to the cloud, we offer the following comprehensive services:
1. Cloud Business Strategy and Solution Design
We assist enterprises in aligning their cloud strategy with digital transformation to boost innovation. We employ design thinking to develop new business models and enabling capabilities, leveraging cloud solutions to drive the case for cloud adoption. Our expertise helps clients optimize their business strategy with emerging digital technologies like AI, IoT. For instance, we aided a large organization in the UK to reimagine its customer journey and onboarding process with a Cloud Platform-as-a-Service (PaaS) solution.
Deliverables Include
Transforming your business model
New Services/Products Design
New capabilities that facilitate business growth
Specialized technology that enhances business strategy
2. Cloud Adoption Strategy
We assist clients in adopting the cloud by developing a comprehensive Cloud Adoption Strategy that accounts for a range of choices across hybrid/public/private, IaaS/PaaS/SaaS, and cloud-native/agnostic solutions. Our approach assesses the overall enterprise portfolio, formulates a business case, and creates a roadmap for target platform capabilities and cloud adoption. We also ensure the alignment of key stakeholders on strategic cloud priorities and help enterprises make critical decisions on business, technology, security, operations, and finance.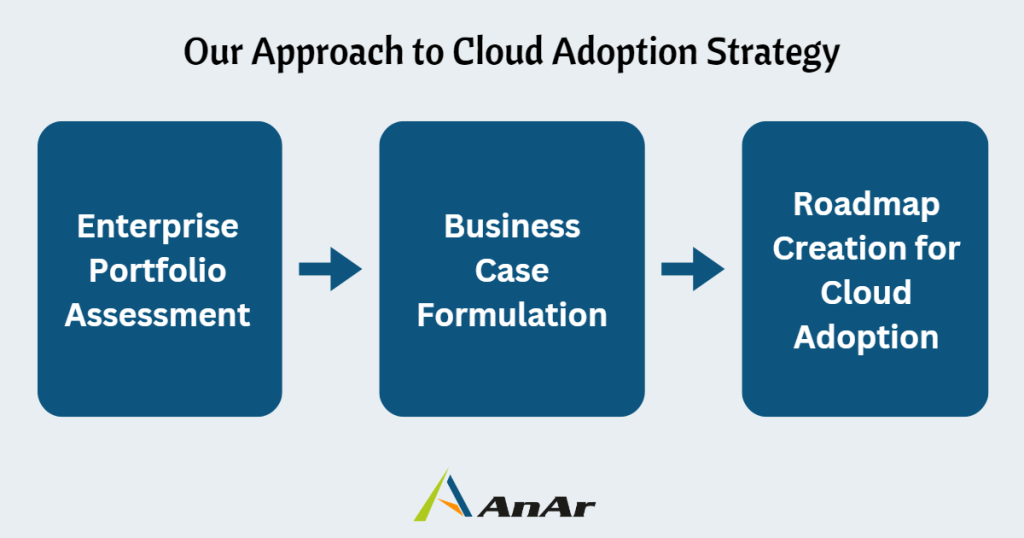 Deliverables Include
Platform strategy capabilities and architecture
Foundation strategy to establish a solid cloud infrastructure.
Migration Assessment and Roadmap
Cloud-native adoption and DevSecOps to enable efficient and secure cloud development
3. Cloud Organization and Operating Model
We assist clients in driving change by designing an operating model that facilitates the transition to the cloud. Our approach includes establishing a Cloud CoE (Centre of Excellence) and defining a roadmap for maturing the Cloud CoE and operating model. This entails addressing the three main pillars of the Cloud Business Office, Cloud Technology Office, and Cloud Platform Engineering. Additionally, we consider cloud security as an intrinsic part of the operating model rather than an external element.
Deliverables Include
Target Operating Model design
Establishing a Cloud Center of Excellence
Transformation of Organizational Change Management (OCM) & Workforce
4. Cloud Economics and Financial Management
Enterprises are now faced with controlling spending as their biggest challenge, surpassing security. To address this, a Cloud Finance Management framework is necessary, which considers perspectives from technology, finance, and the business, and embraces the cloud paradigm. We assist clients in developing Cloud Finance Management competencies that allow the cloud to become a value driver, rather than a cost center. We also create value maps that enable easy identification of areas of focus.
Deliverables Include
Cloud business case development and economic analysis
Cloud cost optimization strategies
Strategies for cloud tagging and chargeback
5. Cloud Transformation Office
Our comprehensive transformation strategy assists clients in advancing their cloud adoption by utilizing an iterative process to prioritize adoption, with an emphasis on business involvement and preparedness for adoption. Another critical component of transformation is the capability for portability and continuous comparison to obtain optimal value for our clients.
Deliverables Include
Portfolio Management
Line of business engagement and demand management
Tracking and reporting on cloud benefits
Ensuring portability and continuous competitiveness
Benefits of Cloud Advisory
1. Optimize ROI through cost-effective application strategies
Achieve business expansion by adopting a hybrid cloud strategy that incorporates AI and automation, resulting in reduced application expenses and enhanced return on investment.
2. Modernization and management of your applications
Achieve uninterrupted modernization and management of your applications across various platforms, leveraging heightened control, visibility, security, and adherence to regulatory compliance.
3. Drive large-scale innovation by adopting transformative work methodologies
Through deep collaboration, we form close partnerships to address internal knowledge gaps by facilitating reskilling and upskilling of your teams. This transformative approach not only revolutionizes the way you innovate but also enables the successful transition of pilot ideas into widespread enterprise adoption.
Why choose us?
Expertise: Benefit from our cloud consulting services expertise provided by a trusted and proven multi-cloud provider.
Comprehensive Cloud Migration Roadmap: Receive a strategic roadmap that ensures optimized results and reduced costs for your cloud migration journey.
Strategic Partnership: Partner with us for step-by-step cloud deployment and implementation services tailored to your organization's unique needs.
Accelerated IT Transformation: Experience expedited enterprise IT transformation with reduced risks, backed by industry-leading service level agreements (SLAs).
Hybrid Cloud: The Preferred Architecture for Transformation: Explore valuable insights from multiple research & case studies, highlighting why the hybrid cloud has become the architecture of choice for numerous companies undergoing transformation.
Contact us or book a free consultation today to learn more about how our cloud advisory services can support your organization's IT strategy and enable successful cloud adoption.