One can find many similarities between SharePoint and Lego . The SharePoint site is the LEGO building board and functionalities are Lego blocks within SharePoint. Basic similarity is that SharePoint is like a huge box of Lego from the local toy store. Lego blocks, come in all colors, shapes and sizes – we can build many different structures from it, we can build trains, ships, houses, etc. on the basis of our imagination. When you get those huge sets, there's no picture of what it's going to build, as that's totally up to you. If you're careful, creative, and plan well, you can build a castle, an airplane, or even a city.
Likewise, SharePoint is a platform of Blocks. The SP site has all the features and is designed to the needs and desires of the organization. It is a single space for content management of data for different companies. Microsoft SP is a single 'sharing-point' for sharing data among various users.
Like Legos, in SharePoint most valuable characteristic is in its ability to make IT architecture in businesses more interoperable. Each block has standard bumps and connectors allowing it to connect to other blocks. In SP, standards-based interfaces are the small bumps that make compatibility possible and connect software to each other.
Companies can design, create sites and give permissions to people depending on business requirements. It is a product by which we can build niche things like Content Management System (CMS), Document Management System (DMS), Intranet, Extranet Portals and much more based on our requirements.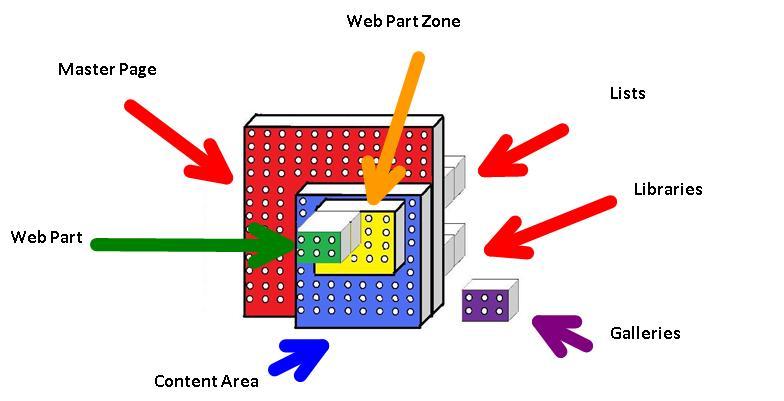 If it then turns out that there should be at functionality, then there can be again a 'block' may be added. In addition to all the capabilities of SharePoint itself, the platform can also be linked with other applications so the possibilities are extended even further.
Announcing the general availability of SP 2016 and the focus of SharePoint's road map over the next 12 to 18 months, Jeff Teper identified the four areas from which we will be able to draw our Lego bricks:
Simple and powerful file sharing and collaboration on any device.
The mobile and intelligent intranet, with modern team sites, publishing and business applications on your desktop and in your pocket.
An open and connected platform that evolves SharePoint extensibility to embrace modern Web development.
Investments in security, privacy and compliance across Office 365.