Preface:
AIOps is a technology that combines the use of Artificial Intelligence (AI) in (ITOps) Operations. Automation in IT Operations helps improve the primary level of business processes. Delay to adopt these proven technologies conservatively is an offense. It hampers the organization's growth. Competitive advantage goes to companies that can demonstrate proficiency. Fetch the culture of standardization with modern technology.
What is the need of AIOps?
For every business, operational data and organizational data are most important. Multi-layered platforms enhance IT operations. Support of IT operations brings stability of infrastructure to support all applications of the organization. Automation can be a success if the infrastructure is stable. Automation eliminates human errs and reduces efforts. 
Why is there a need for AIOps now than ever before?
Getting end-to-end visibility of a business is difficult
Traditional IT management solutions cannot keep pace with a higher number of transactions
Digital Transformation can add value to your business
Integrate data received from assorted sources
If you want to apply Machine Learning and Data Science to IT operations
Machine learning analyzes voluminous data
Data categorization is faster
Precise documentation of data
Exceeds human ability to manage complexities
Surpasses the performance monitoring of mobile applications, IoT devices, and APIs
Supports the ChatOps – chat-based IT operations
Need for faster response by IT operations team
Apply to the applications on iOS, MacOS, Android, and Windows
Market trends show AIOPs as the future of DevOps, exponential growth of data, and IP Traffic. New technologies offer promising growth for IT companies. Create and make the data valuable for the organization with automated IT operations.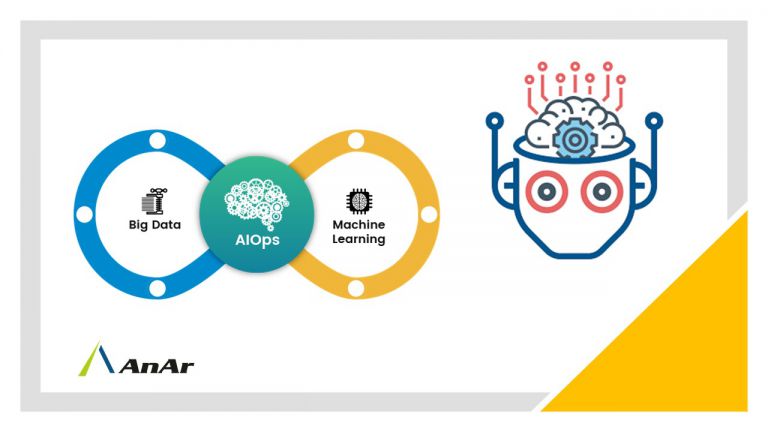 Benefits of AIOps for the organization:
For Business:
Improves business processes and tasks
Delivers AI-based reliable automation
Continuous improvement and revised solutions
Enhances decision-making abilities and get actionable insights
Apply analytics to a broader range of data
Identify the controllable factors
Helps to meet service level agreements
Reduces operational bottleneck, operational costs, and operational errors
Prompts the problems even before they happen
Data-driven recommendations helps to speed up service
Automatically detects and solves issues with dynamism
Improved resource utilization
Reduction in overheads of IT staff
Predictive Analytics, Service Analytics, and Capacity analytics
Automation assists in taking decisions even if data is complex
Adoption of the cloud for higher data security
Brings visibility to business as a whole with an improved understanding
Saves you from mundane work and think innovative IT solutions
For Applications:
Modern applications with cloud-native architecture
Scalability of systems
Anytime access to data with inbuilt lake pool
Identifies service level issues
Data-driven automated processes and recommendations
Real-time data correlation
Accurate root cause analysis
ML learns from data using algorithms
Get consistent automation architecture
Prioritize query and issue resolution
Tremendous reduction in MTTD for speedy MTTR
Monitor performance and security of the applications on-premise or cloud
For the IT Teams & other employees:
Monitoring systems becomes easy
Real-time data ensures root cause analysis to propose solutions
Reserve the efforts for the strategic tasks
Better engagements and contributions to the company's projects
Provides visibility to each service by automated responses
Improves both IT processes and the workflow
Quality tasks for IT professionals is satisfying
Increased efficiency of problem analysis and problem-solving
Separate the significant and general alerts for defining actions
Proactive resolution with a deeper analysis of the problem
Inbuilt asset intelligence that helps in continuous learning
Improved IT service lifecycle
Being an IT organization if you are in a struggle to keep pace with the world; explore the possibilities that the latest technologies offer.
Cautions before implementing AIOps:
Consider the impact in the long run
Identification of skills and experience
Set your priorities and capabilities
Transformation can be challenging
Applying algorithms on data sources
Implementation in various network conditions
Proper documentation of IT processes
Along with the approvals, there are certain objections to this technology.
Objections to AIOps:
Inadequacy of skilled Operations Team
Organizational cultural clash
Application of emerging technologies requires additional skills
Questionable ability to adapt to the change in IT operations
Readiness of the team to take on modified responsibilities
Failing to cope up to the technology affects the career
Need for trainings on Machine Learning and deep learning algorithms
What should you propose while drawing the advantages of AIOps?
Expecting the change to bring improvement to IT operations
Plan for success should include understanding the need for business
Set clear expectations including what change does your business need
Focus on goals, reduced workload and data requirements
Handling IT solutions with AI to what extent should it be automated
Data processing strategies and addressing concerns
Measures to reduce the operational costs
Actual function of algorithms for improved interaction
Handshake of IT and AIOps helps to build a better business
Identification of latent service level issues
Introduce the prevention and resolution of IT-operational issues
Evaluate automated IT operations using Opensource and Machine Learning software
Evolve products around AIOps for knowledge management, and task automation
Software performance or risk analysis, historical analysis,
Establish correlation between real-time and historic data
Contextualization increases the capability to observe for planning actions
Reduce both the Mean time to detect and repair
Adopt best practices to improve system capabilities
Standard responses to ensure minimum response time
Deploying a thoroughly tested application on production
Observe transparency within applications
Define alert and notification management process
Validate the algorithmic decisions by the platform is must
Incident management converted to learning's for the software
Automated system health check
Accurate predictions about the infrastructure issues
Reduced efforts and improved results of digital transformation
Set measurable for success of automated IT operations
Addressing future problems and finding probable solutions
Program for post-implementation of automation in ITOps
What is the after implementation challenges?
Multiple monitoring tools is a challenge for analytics
Ability to manage the alerts and actionable
Applications do fail to perform if the data quality is compromised
Response is not satisfactory if data is missing or inconsistent
Design level issues get highlighted
Business processes and approach is not defined accurately
Establishing a correlation between customer information and transaction processing
Digital data cannot be completely unsupervised
Maintaining automated IT operations requires domain knowledge and expertise
Selection of tools for AIOps is a critical decision
Top Free Software for AIOps Platform:
Dynatrace
Instana
Netreo
Logic Monitor
AppDynamics
Review:
Reduce implementation costs of AIOps with the use of open source Machine Learning software. Automation of operations increases the speed to achieve a higher customer response rate. Avoid superfluous bottlenecks to a great extent to provide a superior user experience.
Market Analysis points towards the continuous growth of the AIOPs platform, expected to touch 9.2 billion USD by the year 2025.
AIOps is the future of IT operations. Get future ready; invest in it now.