Uncertain about the approach for establishing collaboration with a software development company while you currently have an internal team of specialists? Make a comparison between managed services and IT staff augmentation and opt for the most suitable strategy to expand your engineering workforce.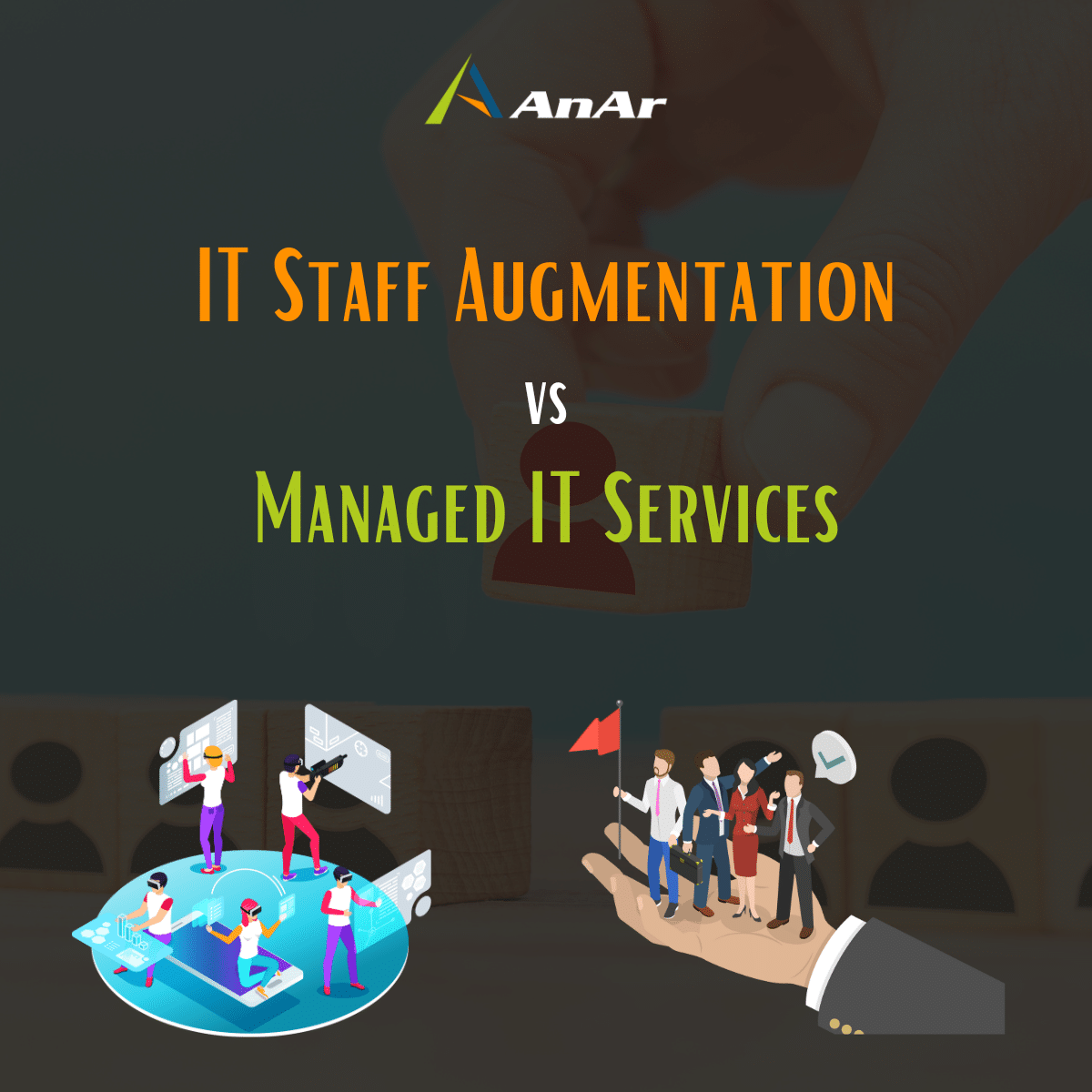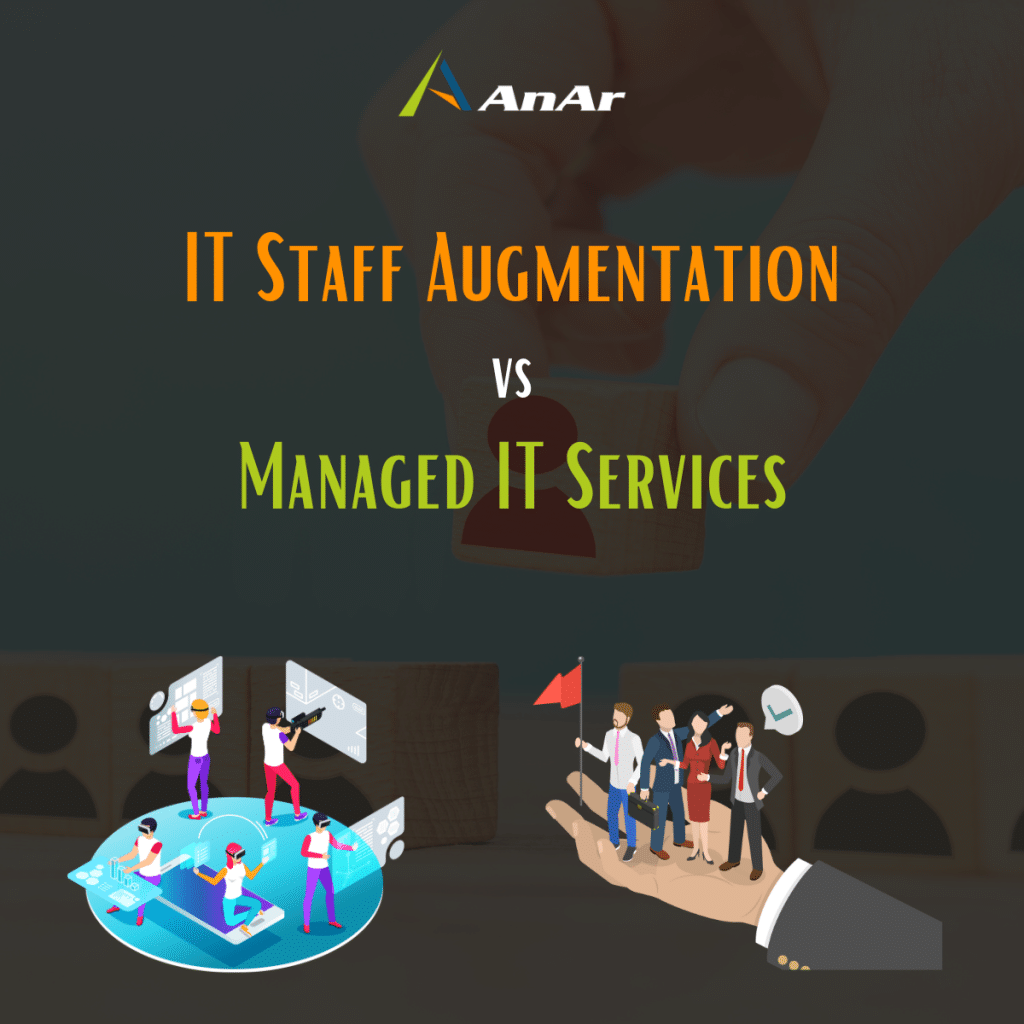 Amidst fierce global IT competition, the 2023 worldwide IT market attained a value of $9.36 trillion, escalating from $8.38 trillion in 2022, and it is expected to touch $13.9 by 2029. As companies create more advances digital solutions such as new websites, applications, and software, keeping up with rapid digital progress necessitates addressing increased demand by hiring dedicated development teams. This is when they can contemplate the options of managed IT staff augmentation or managed IT services.
You might wonder, "When we compare IT staff augmentation versus managed IT services, which model is more effective?" In such a situation, opt for offshore dedicated developers who align with your business needs. But there isn't a single, universally applicable approach to hiring a dedicated development team.
There are different outsourcing models at your disposal, each offering its own advantages and associated risks. By comparing IT staff augmentation and managed services, you can determine the most fitting choice for your company.
Let's find out!
What is IT staff augmentation?
Staff augmentation is an IT outsourcing strategy that enables a company to supplement its existing team or organization with additional talent focused on a particular task or project. It's a flexible solution when full-time roles aren't urgently required. Benefits include cost-effective resource scaling, short-term hiring, and team expansion without long-term commitments.
What is managed development team?
Managed IT services encompass the entire spectrum of your IT infrastructure, handling ad hoc needs to constant monitoring and maintenance. Benefits of managed IT services include streamlined operations, access to specialized expertise, enhanced security, proactive issue resolution, and the flexibility to scale resources as needed.
IT Staff augmentation vs. Managed Services
When seeking to hire dedicated developers, you can consider both staff augmentation and managed services, each involving outsourcing a team of dedicated developers and serving different purposes.
1. HR & recruitment
When you choose the software outsourcing approach, your service provider takes complete responsibility for hiring. You're saved from the effort of on-site recruiting, hiring, and HR investment.
IT staff augmentation — In this model, the outsourcing company offers resumes of suitable candidates prepared to integrate into your development team and commence work on your assignments promptly.
Managed services — Using the managed services model, you aren't directly recruiting developers. Instead, you pay for the defined tasks or project completion. Your provider supplies all the necessary experts — engineers, designers, managers, and analysts — for the process. However, you can still engage in the process of choosing and conducting interviews with potential candidates.
2. Onboarding
Onboarding involves introducing new employees to your team, product, goals, and tasks. It's important for ongoing development. Usually, the onboarding process lasts a few weeks.
IT staff augmentation — When hiring new talent into an existing team through the staff augmentation model, you and your team might consider devising and implementing an onboarding strategy.
Managed services — In the managed services model, your software development partner takes complete responsibility for seamless onboarding. They determine team composition and the timing of integrating new talents to enhance development and ensure timely delivery of functionality as per the established timeline.
3. Team size and composition
How many specialists do you need to hire? The decision is in your hands.
IT staff augmentation — When it comes to IT staff augmentation, you have the flexibility to employ the exact number of specialists required. You can bring in individuals to fulfill specific tasks and compensate solely for the hours they dedicate to development.
Managed services — The size and makeup of the team are influenced by various elements, including your requirements, project demands, financial resources, and timeline. A software development collaborator will assess their past expertise and analogous projects to furnish you with a team capable of efficiently and promptly managing your tasks.
4. Responsibility
When contrasting staff augmentation and a managed team, a crucial question to address is: To what extent of responsibility are you prepared to assign?
Do you wish for your team to manage all engineering responsibilities as you focus on promoting the product and advancing business development?
Alternatively, do you prefer being actively involved in app development, participating in meetings and discussions, and staying in touch with all team members?
IT staff augmentation — If you're comfortable with extensive involvement in the development process, staff augmentation might align better with your requirements. Under this model, you and your internal team assume complete responsibility for project development, feature prioritization, and pivotal engineering choices.
Managed services — If your intention is to assign technical duties and choices elsewhere, allowing you to channel all your attention towards the expansion of your business, then initiating collaboration with a thoroughly supervised group is likely necessary. An exclusive project manager employed within your team can manage communication and operational responsibilities while furnishing you with updates on the advancement.
5. Costing
Several variables can influence the expenses associated with project development. An accurate cost estimate is attainable only following the project discovery stage.
Prior to that, determine what exactly you'll be charged for.
IT staff augmentation — In this model, adding external developers to your team, you compensate them based on the time they dedicate to your assignments.
Managed services — When working with a managed development team, your expenditure is determined by the extent of work accomplished by the specialists. The expenses associated with software development services can vary significantly.
6. Payment model
The time and materials payment approach, along with the monthly flat fee model, are commonly used in software development services. However, when engaging a managed team to create an MVP from the beginning, you and your development partner might also consider a fixed price model.
IT Staff augmentation vs. Managed Services – In a Nutshell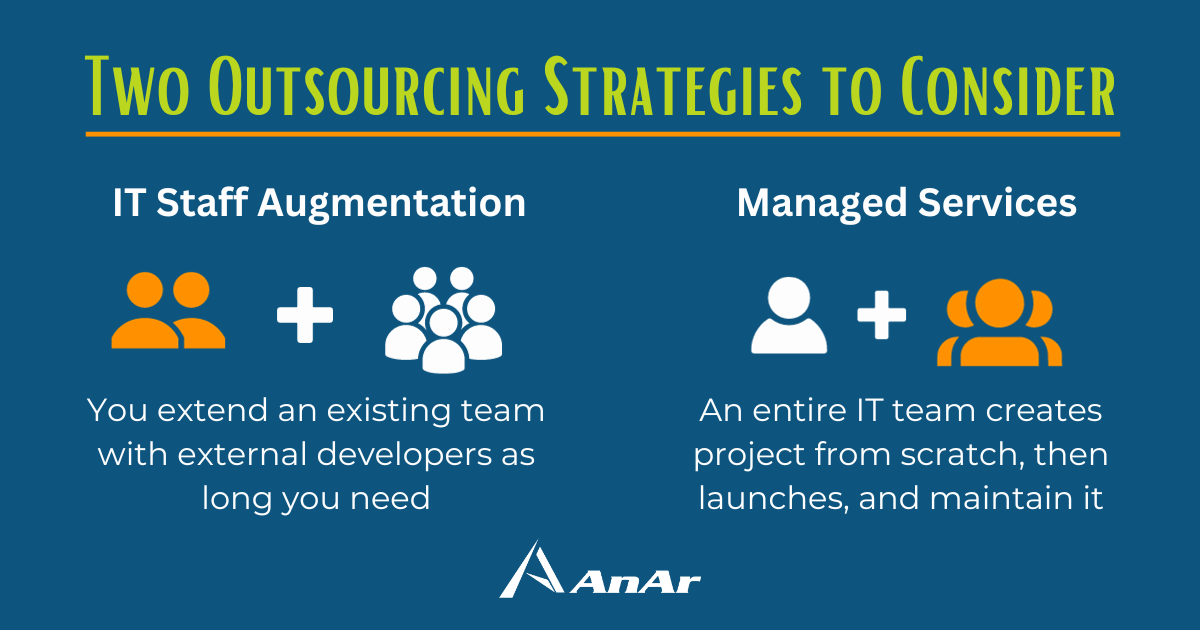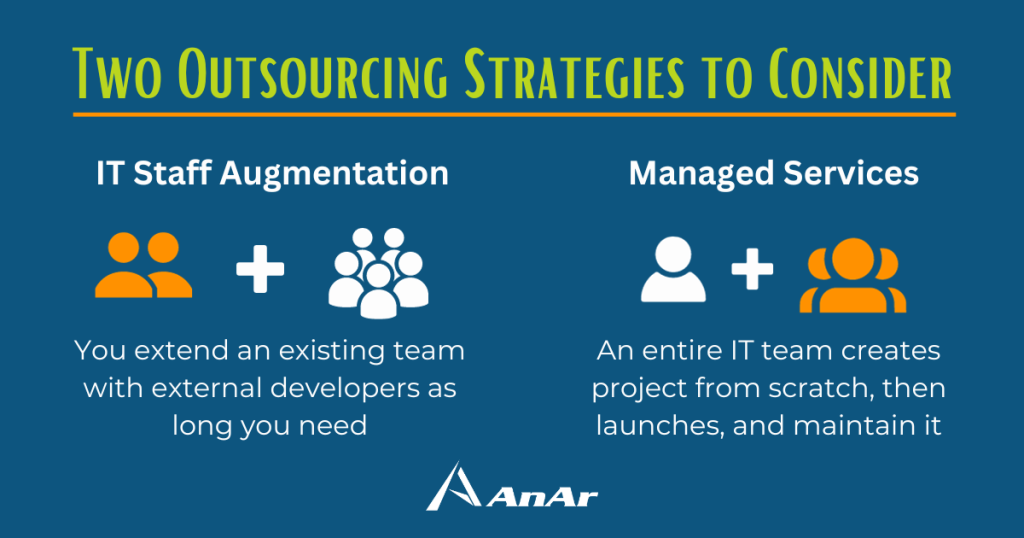 | | | |
| --- | --- | --- |
|   | IT staff augmentation | Managed services |
| HR procedures | Covered by software development partner | Covered by software development partner |
| Onboarding | Managed by your team | Managed by partner |
| Team size and structure | You bring on board as many specialists as necessary to fulfil the roles demanded by your project. | Development partner recommends the team size and composition as per your project needs |
| Level of responsibility | The development partner takes complete accountability for delivering the project outcomes. | The deliverables are under your responsibility and that of your core team. |
| Cost | The monthly fixed fee is determined by the count of hired developers, their skill sets, and their level of experience. | The development partner shares you with precise estimates of both time and cost. |
| Payment model | Flat monthly fee | A set cost for specified outcomes or the time and materials approach |
What are the types of IT staff augmentation?
When adopting the IT staff augmentation model for hiring dedicated developers, consider the following variations:
Short-term: Ideal for adding resources temporarily, spanning from a few weeks to several months, bolstering current staff.
Long-term: Suited for extended projects requiring additional team members for six months or more.
Skill-based: Optimal for specific expertise needed in projects, aiding smooth in-house operations. Useful for tasks like tech consultations.
Highly experienced: Necessary for high-stakes projects demanding deep expertise, often in areas like information technology or software development.
What are the types of managed IT services?
When it comes to managed IT services, there are several variations that cater to different business needs and requirements:
Proactive Monitoring and Maintenance:Continuous oversight of systems and networks to catch and resolve issues early, ensuring seamless operations and minimizing downtime.
Cloud Services Management: Efficiently administer and optimize cloud resources for scalability, cost-effectiveness, and enhanced collaboration capabilities.
Help Desk and End-User Support: Frontline assistance for employees, addressing IT queries, troubleshooting, and offering guidance on software and hardware use.
Vendor Management: Oversight of third-party relationships to ensure they meet contractual obligations and deliver products/services aligned with standards.
Virtual Chief Information Officer (vCIO): Strategic IT advisory service providing expert insights on technology alignment with business goals and informed decision-making for long-term growth.
Which model to opt for: IT staff augmentation or managed services?
he choice between IT staff augmentation and managed services depends on your specific needs and circumstances.
Opt for IT staff augmentation when:
You're launching a startup or initiating a new project.
You're creating a custom digital solution for an established enterprise.
Choose managed services if:
You're already collaborating with a development team and require significant expansion.
You're dealing with complex tasks or exploring unfamiliar technologies that exceed your team's capabilities.
You're looking to optimize existing engineering efforts while minimizing development costs.
Both models offer unique advantages, so it's essential to evaluate your project's requirements and resources to make an informed decision.
Final Verdict — Staff Augmentation or Managed Services?
Both staff augmentation and managed services are pivotal in assisting businesses in achieving their development objectives. Staff augmentation provides flexibility for short-term and specialized needs, but it's also a reliable option for long-term engagements. Meanwhile, managed services excel in offering ongoing support and even the outsourcing of entire projects.

At AnAr Solutions, our experts are poised to support you in both scenarios. Whether your IT team needs seasoned professionals to fill specific expertise gaps, or if you're seeking to augment your project team with experienced individuals, or even assemble an entirely new team from scratch, simply inform us of your requirements. We're here to help you navigate your IT ventures effectively.

[/vc_row]