Custom web applications designed to meet specific business challenges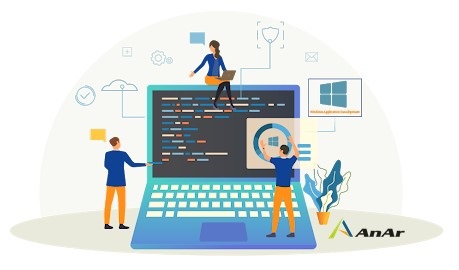 With Application Development services at AnAr, we build frontline software solutions that enable enterprises to unlock innovation and make a difference in the tech world. In our hyperactive digital ecosystem, customers demand faster, personalized, and highly intuitive apps that help them to incentivize the time spent accessing different applications. Leverage our low-risk approach and development accelerators to propel your digital transformation and ensure a competitive edge. Our services span mobile, web, and cloud, providing businesses extra mileage to reach wider audiences across different touchpoints.
Software Consulting:
Refine your application idea and develop a detailed concept for future software
Elicit and prioritize all needed requirements
Design the software architecture for maximum productivity of the application
Choose the right technology stack
Provide a plan for smooth integration of your enterprise applications
End-to-End Software Application Development Services
Clean and stable code; future-proof architecture (mobile-, integration-, cloud-ready; SOA, microservices-based, etc.).
Rapid prototyping, fast delivery of the first version, and iterative development further.
Focus on quality at every stage of the software development life cycle.
Clean UX design.
Undemanding support and smooth evolution.
Legacy Software Modernization
Wide pool of legacy tech skills
Efficient modernization process, minimally disruptive to your business workflows and processes.
Agile, continuous integration, and up to 70-80% migration automation.
High-quality support.
We can integrate new software with other tools you already use – be they custom-made or platform-based – like ERP, CRM, PDM, MES, vendor and customer portals, and more.
Our experts can build clean, secure, and well-documented APIs to help you extend enterprise-wide automation or enable smooth and easy integration of your custom solution with other internal or external systems and subsystems.
Application Rationalization service helps build leaner and more agile systems that improve organizational efficiency. Our team of experts analyzes your portfolio and recommends one of the following actions for each application: Retire, Repair, Reuse, or Rebuild.
As your business evolves, applications must change to suit new business scenarios. AnAr's application Maintenance services help enterprises identify and find solutions for issues cropping up within the many components of complex business systems.
Keeping clients' customized requirements at the center, we offer a comprehensive set of manual and automated testing services adhering to standard quality assurance practices and processes.
Interested in what solutions work best for you? Let us discuss together.