Project Management Tools assists in managing the work and team involved in the projects. The complete software that allows you to plan, schedule, collaborate, document, and evaluate. Work management through project management tools covers allocation, workflows, calendars, templates, tasks, and folders. It allows the project owners to communicate with the team members, organize the dashboards, approve the tasks, add the comments to the tasks, and keep track of activities. The software enables documentation and easy storage of files, its versioning, editing, and uninterrupted access. Project Management Tools allows the managers to track the resources, manage resources, and verify their productivity.
Why do we need special Project Management Tools?
There is other software like resource management software, documentation management software but what a project management tool does is catering the needs of project. Specific needs of project like start, duration of project, short term goals, stakeholders, and deliverables. Comparatively the other programs designed for a company have a long-term perspective.
Top Benefits of Project Management Tools:
Automate Processes
Improve Accuracy
Ease to Use
Better Customer Support
Market Trend
Industries that have benefited by exploring the Project Management Tools are Information Technology, Public Service, Healthcare, Pharmaceuticals, Energy, Real Estate, Marketing, Management Consultants, Professional Services, Architecture, and few others.
Popular and Standard Project Management Tools: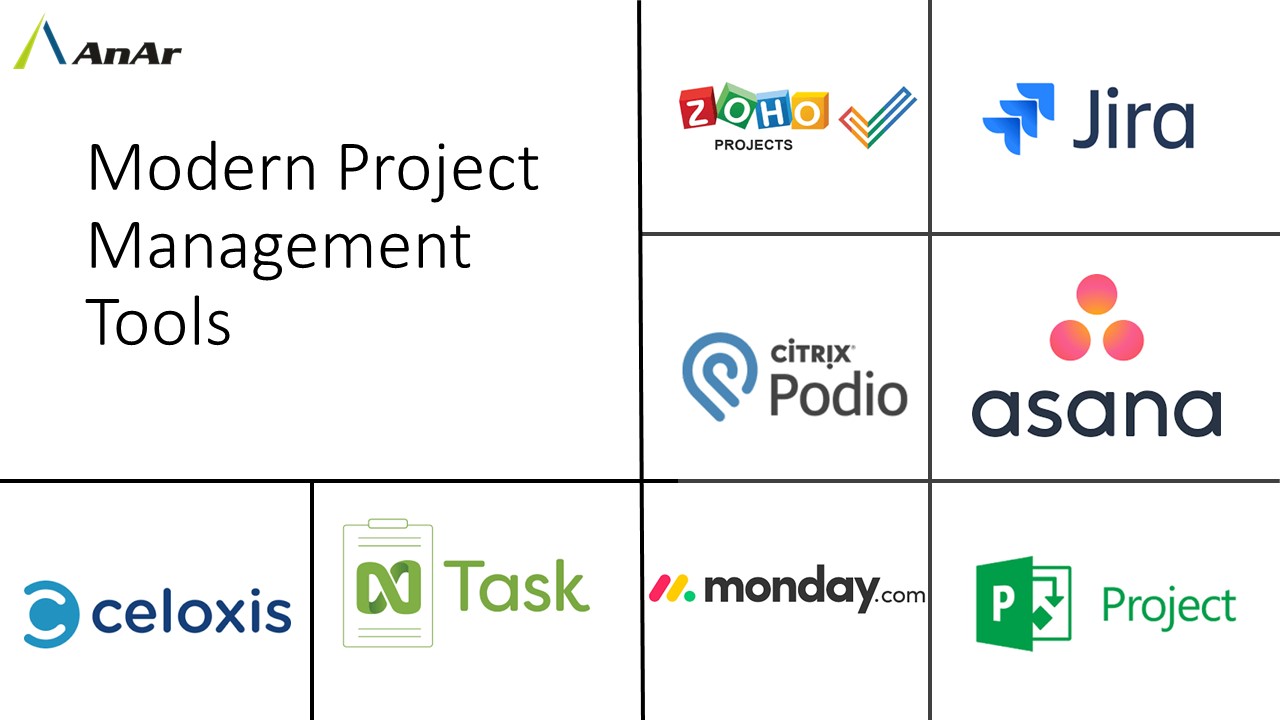 1.Jira: This sophisticated and efficient tool aids quick planning; monitoring helps the development team in streamlining the software releases.
Pros:
Powerful, flexible and easy to use
Lot of Integrations
Share business requirements
Search and filter functionality
Customizable fields
Single view of user stories
Track release tickets
Easy export of data
Generate reports for active and closed sprints
Simultaneous check on active tasks
Scheduling Tasks and E-mail notifications
Timesheets and individual task tracking
Cons:
Resizing of columns to fit in the window makes data unreadable
Mobile App requires lot of navigation dissimilar to web application
Error messages should be explicit
Artificial Intelligence integration can automate lot of processes
Code refactoring plugin can help
Pricing: 10 users – $10, $7 per user/month for 11- 100 users for cloud-based deployment
2. Zoho Projects: This project management tool is perfect for project planning; it covers minute details, set milestones and manages even complex tasks. It improves team productivity and supports knowledge sharing.
Pros:
Flexibility of configuration
Good UI and nice graphics
Mobile App is highly customizable
Notification to alert the users and groups
Assign tasks with deadlines and comments
Track project progress
Tracking multiple IT projects
Templates an online tutorials
Chat with customer care
Cons:
Integration with Calendar and attendance systems will be added advantage
Not great for complex projects but not too large projects
Include bug tracking
Cannot view project specific manpower allocation
Task creation and task management can be intuitive
Tracking completed tasks date wise is difficult
Project printing functions should be enhanced
Pricing: Rs. 1260/month for 6 users – 10 projects/ 10 clients, Rs. 3500/month for 15 users- unlimited projects/15 client users
3. Asana: This project management tool assists the project owners to collaborate on projects with other departments involved. It is suitable option for small to medium teams.
Pros:
Set frequency of E-mail notifications
Communicate within project without exchanging e-mails
Cross team communication
Assign tasks with due date
Maintain notes and attach files to the sub tasks
Customizable views and fields
To-do List Tracking
Scheduling tasks
Track multiple projects in one place
Content and data sharing with other applications
Bug tracking
Organize meetings
Collect feature requests and suggestions
Data deletion and export from enterprise version
Data Security
Cons:
Calendar integration is missing
Software integration with Gmail is needed
Expecting better features for the mobile application
Task prioritization feature should be added
Export allowed in JSON and CSV formats
Pricing: Free Plan – 15 teammates and $10.99 and $24.99 per user/month
4. MS Project: The built in templates, portfolio management, and resource management are the key features of this project management tool. It is best suited for complex and massive projects.
Pros:
Suitable for projects of all industry types including tech industry
Integrate with Microsoft tools
Best for experienced project managers
Integrate other Microsoft tools
Planning and Scheduling
Drag and drop function helps scheduling
E-mail and Calendar integration
Web based facility saves allows to check the assigned tasks without downloading MSProject
Cons:
Advanced tools difficult to use for new users
Not ideal for collaboration and data sharing
Access data only if MS Project is installed on the machine
Working remotely is challenging
Tools does not work across devices
Conflicts in manually scheduled and automatically scheduled tasks
Integration with external apps needs manual intervention
Cannot send messages to the resources
Cannot measure individual or team's productivity
Pricing: $10, $30, and $55 per month.
5. Monday: This project management tool has inbuilt templates, customizable views and helps in daily management of team and project activities. Get good presentation of project overview. Monday was earlier Dapulse, it is best for small and medium businesses.
Pros:
Users have private boards and team can create public boards
Visual display of progress
Powerful data manipulation and exporting tools
Colour coding and easy task assignment
Keep track of pending and complete
Discuss projects with the team from the tool
Integrate multiple tools like E-mail, Google Drive, and Dropbox
Easy customization
Leave live comments on the visuals
Cons:
Learning curve is bit overwhelming
With added users the product becomes slow
Costly for individual users
Scheduling recurring tasks can be improved
Better view required
Pricing: $25, $39, $59 and $118 for 5 users/month
6. Podio: The project management tool that lets you customize the features and is a good tool for large teams. Using podio information system can support all the areas of the organizations. It is suitable for small and medium businesses.
Pros:
Connect with Go To Meeting
Keep track of contacts and meeting info
Data accessibility
File sharing
Automated task assignment
Customized workflow lets you follow an item
Workspaces can include internal and external members
Powerful communication platform
Notify team members easily
No need of internal e-mails
Great for managing resources
Cons:
Visual Interface should be
Not mobile friendly
Calendar integration required
Archived workspaces consume screen space
Attachment size limit is 100MB
Automated workflow needs improvement
System does not support mass data entry is not
Pricing: Free, $9 per user/month
7. Celoxis: It is best for medium sized companies and enterprise. This award winning project management tool is one of the best tools in terms of delivering projects and real-time financial analytics.
Pros:
Plan and track project portfolios
Budgeting, revenue forecasting and resource management
Comprehensive project and work management platform
Easy to navigate
Customizable client portal and dashboard
Powerful Reports and dashboards
Schedule report delivery
File sharing
Comments can be exchanged between the colleagues and clients too
Cons:
No Chat within the app
Advance security rules are bit confusing
Cannot edit comments, need to download file and modify
Mobile app will be useful
Task checklists is missing
Dropdowns and options in reports are not customizable
Improve graphical representation
Pricing: $25 per user/month on cloud, and $450 per user/month on-premise.
8. nTask: Start-ups, small businesses, and enterprises prefer this project management tool. Its intuitive design adds to performance. Simple and elegant user interface eases the use of first timers.
Pros:
Automate Tasks
Easy Navigation
User Friendly
Risk Management
Percentage of task completion tracking
Flawless Integrations
Workspace management for teams
Bug Tracking
Resource Allocation
Meeting Management lets you store the agenda, discussions and follow-ups
Unlimited Storage in paid version
Cons:
No templates
Customization and formatting options missing
Kanban board view can be introduced
Need more options to organize work
Pricing: Free, $ 2.99 per user/month, unlimited users, workspaces and projects.
Synopsis:
Inter-dependencies of tasks and resources, estimation, managing time constraints, and bottlenecks, re-scheduling tasks automatically, foresee the budget limitations, and detailed execution of the project is possible with the Project Management Tools. Software is not worthy or worthless especially if they survive in the market. The criteria mismatch makes it inoperative.
Selecting a project management tool needs you to define the business and key users requirements in terms of software and their dependency on the system. It should take you through various stages of the project right from defining goals, developing a roadmap, setting deliverables, executing, monitoring, measuring performance, and closure. The aim is to create a pleasant work atmosphere and produce stable software.