Mobile Application testing is a key step in application development that garners a marketing opportunity for the business, whilst saving on opportunity costs.
When you are in the market, every business is trying to get that lead and have a greater market share at the end of the day. The market value of a business is based heavily on its share price. The share price fluctuates with the preference of its customers or shareholders. To keep its shareholders steady, the business is required to keep itself updated with the rapid changes in the world of technology.
This recent trend of technology has only been amplified by the universal presence and effect of mobile devices. The use of mobile applications has increased owing to the accessibility and ease of use. Mobile applications are key to a business as their interaction with the customer is better and aid in maintaining a proper market share. This article enlists the best practices for mobile application testing and the role they play in business development.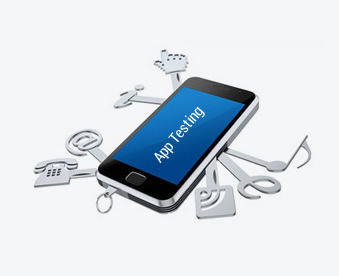 Mobile application testing is a key step in application development that garners a marketing opportunity for the business, whilst saving on opportunity costs. Here are the best practices to be considered for mobile testing of software applications.
• Understanding customer demographic: Developing applications and testing them according to the needs of the customer would lead to the development of complying mobile applications.
• Scope of the app: Scope of an application has to be judged prior to testing them with beta versions for a select audience.
• Pick the top priority phones: There are certain groups of smartphones that need to be given top priority in the mobile application testing, primarily because they represented a wider demographic. A range of screen sizes, resolutions, version number, and processor speed can be tested with the priority device group. This also functions as a test where commonly used smartphones are tested for their software compatibility.
• Standardized tests: Retain tests across applications on both desktop as well as the internet.
• Connectivity tests: There should be plans in place for testing the requirement for data connectivity for application testing. All forms of data right from 4G LTE, 3G, and Wi-Fi have to be tested for their response. Seamless experience is top priority and an ideal connectivity benchmark has to be set to ensure performance.
• Security Tests: Certain mobile applications require permissions to access user data such as contacts, photos, gallery, etc. In such a need, the security of the data accessed should be tested. As sensitive user information is taken into consideration, the need arises to ensure that the data is dealt with proper protocol. One such example includes applications that store user information such as social security numbers, passwords, and credit card details.