Mobile App Development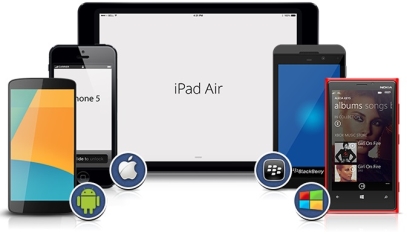 Business is an ever alternating phenomena. If you desire to be a step ahead of your competitors, updating yourself with new technologies is the answer. At AnAr, we help corporate become a mobile enterprise, giving advice to customers on their mobility strategies. We use latest mobile technology and system integration for delivering innovative enterprise mobility solutions, placing companies ahead of their competitors.
Enterprise mobility is a must have nowadays and not just nice to have as it used to be earlier. With the increased use of mobile applications, enterprises face challenge to attract customers resulting in development of innovative mobile apps. These mobile applications have helped the businesses to directly reach customers in a more personalized manner. AnAr has wide experience in building variety of custom Mobile applications.
Honesty and customer focus are the key parameters we work with. We have a dedicated team well-versed, experienced in technical knowledge, which develops best mobile applications catering to our client's needs. We focus on three major goals while carving applications – users, technology and business goals; and hence deliver complete mobile experience for our client.
AnAr's mobility offerings include:
Native/ Cross Platform/Hybrid Apps development: We design and develop native and multi-platform mobile solutions across industry-prevalent operating systems by adopting various cross-platform frameworks like HTML5,JavaScript,Titanium, PhoneGap, JQueryMobile, etc. We have designed many mobile applications for various industry needs across multiple OS platforms:
iOS
Android
Windows Mobile
Enterprise mobile solutions development and Specific Business application development: We have a wide experience in Customized enterprise applications for various industries and functions on Mobile. At AnAr we specialize in customized enterprise applications that run on Mobile with Cloud backend
Responsive Mobile website development / Mobile UX/UI Design -We practice best in class industry standard user interface [UI] design principles to deliver the best user experience possible [UX]. Noteworthy factors such as information design, information architecture, interaction design, visual design, usability, and user cognition are analyzed to provide high-fidelity wireframes, prototypes, and finally the finished product that meets our client's requirement.
Mobile Application Migration services: Migration of existing mobile applications to different platforms. Our mobile porting service begins with a thorough analysis of the app's current mechanics, frameworks, platform feasibility, and design specifications. For both PC to Mobile[P2M] and Mobile to Mobile[M2M] porting, the application codes are revised and optimized for porting and then passed on to the porting test phase to reduce porting efforts. If feasible, the application codes are reduced and reused to minimize porting costs.
Mobile Application Testing: As mobility grows, so does the need for app testing. From complex enterprise applications to simple messenger apps, mobile has transformed the way client's access data. At AnAr we provide Testing of already developed Mobile applications on various mobile platforms – Android, iOs and Windows. We deliver comprehensive testing services to ensure desired user experience and expected business value.
Benefits of getting mobile app development services from us!
We are much more than an app development company. We like to think of ourselves of as a digital gatekeeper because we stick with our clients until their objectives are met without compromising quality and level of service.
Skilled mobile app development team – Our team mates have wide expertise in app development. They are proficient in Cloud, Web and Mobile to best serve client needs. We act as a Strategic Partner and make sure we adhere to 100{837330d4a8ef7eefea6ad76a2e6c839eeae477cba1366427bd0e21e978eaa9aa} of the security and confidentiality compliances. Our engineering team adds value by delivering client ideas in a usable framework
Transparency & Effective Collaboration – We provide a suite of collaboration tools to manage projects and reduce gaps between expectation and final deployment
Process & Collaboration – We use Industry best practices and optimized internal processes for mobile app engineering to ensure development of high-quality products
Maximize Productivity and Throughput – We develop and deliver apps focused on desired business goals. We focus on maximizing team productivity and reduce rework. This leads to  optimum cost of development as the Focus is on Business Value and efficiency
Easy to use & beautifully designed mobile apps – dedicated UI /UX teams
Customer Focused – We create positive customer experiences, giving clients what they want by actualizing consumer ideas for customer base development.  Complete customer support on all time frames
User-friendly & intuitive interface
Fulfilling bespoke and custom requirements
24/7 email & telephone support