SharePoint Development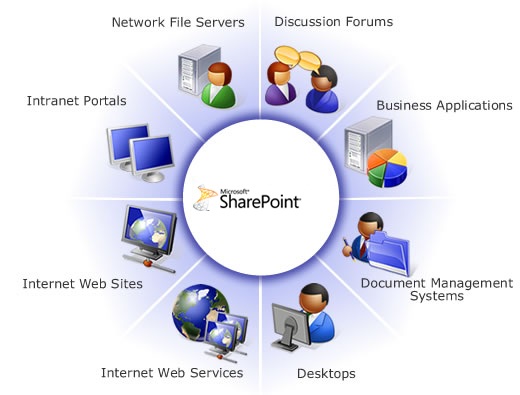 Success comes with scalable enterprise solutions, which not only helps you, manage every aspect of your business but also cater to new requirements. SharePoint serves as a collaboration and document management platform that empowers the internet, intranet and web application development requirements of the enterprises. It allows the managing and provisioning of various activities including intranet portals, websites, extranets, file management and much more, as well as third-party development solutions.
SharePoint applications development is an effective method to up boost your business potential and to upsurge productivity. We provide assistance in maximizing your investment on SharePoint and have a low total-cost-of ownership pertaining to SharePoint custom development, branding, maintenance & upgrades.
We offer high end SharePoint development Services with competitive edge. Our Team comprises of professional SharePoint developers with years of experience and knowledge. We provide complete SharePoint consulting services that work on wide range of requirements. We use built-in tools to allow fast search, rapid data analysis and lead you to swift integration of SharePoint tools and your business progression. Our team collaborates with clients to transform Microsoft's Office SharePoint platform into a business tool that greatly enhances organizational communication and collaboration and facilitate access to business critical information. We can implement SharePoint system software, application or web part of any complexity either on your platform or on a third-party hosting area.
Our SharePoint Service Capabilities include:
SharePoint development services:
AnAr specializes in developing custom solutions that integrate with SharePoint platform. This includes developing custom web parts, dashboards, reports/business intelligence etc.
Workflow & Collaboration Solutions:
We create workflows and enterprise collaboration solutions by capturing data using Microsoft InfoPath forms and automating it through workflows created using Microsoft SharePoint Designer and third-party tools.
SharePoint consulting services:
Our team of SharePoint consulting helps you to analyze and define your unique business requirements, put together solutions leveraging SharePoint technology
SharePoint customization services:
Our team helps in installation and customization of SharePoint. We also have wide experience on branding SharePoint sites with high level of user interface customization for out-of-box web parts and custom web parts
SharePoint development in office 365:
We intend to build SharePoint applications for both hosting models available for SharePoint Apps for Office 365: SharePoint-hosted and Provider-hosted. The biggest difference between these two models is that SharePoint-hosted apps are installed on and execute within the Office 365 SharePoint site, while Provider-hosted apps are installed on the Office 365 site but require a remote web application, running on either an on-premise web server or Microsoft Azure, where the app is actually executed. At AnAr we have a passionate team to build SharePoint sites in office 365.
SharePoint integration services:
With SharePoint application through a single portal or dashboard, you can access many of your applications and data in a secure environment. You can track projects, share ideas, collaborate, and see these applications from your office or in the cloud. Microsoft Office integration with SharePoint further enhances and streamlines productivity. Our SharePoint team helps you streamline your current processes and integrate them for the better use using SharePoint.
SharePoint Migration Services:
A sound understanding of SharePoint object model and database schema our team would be able to migrate content from various sources such as: eRoom, Documentum, Stellent, Lotus Notes, Jive, AppXtender and File Shares over to SharePoint 2007-2013 (both on-premise and in the Cloud). Our SharePoint migration team offers migration services that include; analysis, prototype, planning and execution of multiple source content over to SharePoint.